Potential ROI on Hiring A Virtual Assistant
Physicians and other medical practices often find that their teams are overwhelmed by the medical billing process. And overwhelmed is an understatement. They're frazzled! The process involves many functions including patient registration, superbill creation, claims generation and submission, monitoring claim adjudication, patient statement preparation, and statement follow-up to name a few. This is when many practices consider whether it is a sound business decision to outsource this process to medical billing companies.
Today, we're talking about some of the misconceptions that practices have about outsourcing medical billing services.
Faulty Logic That Outsourcing Medical Billing Costs More Than Keeping It In-House
As a general perception, most practices believe that outsourcing their medical billing functions increase their cost of operations. However, this is faulty logic. When you outsource, you will have access to specialized and experienced staff. This means access to a much more efficient system that tracks your accounts receivable, creating the right setting for increased recoveries. This is what they do. This is ALL they do. Putting your medical billing into their hands saves time and frazzle.
Undertrained & Overwhelmed Staff
Your in-house under trained staff can easily get overwhelmed by the billing process. This results in failing to bill and failing to follow up on secondary billing. Most of the time it is unintentional and just happens. But why should your practice be penalized for that? Most practices prefer to keep overhead low and believe that keeping medical billing in-house will help them accomplish that. This just isn't true. Instead of having your staff handle duties that are directly tied to your money while they're already responsible for the daily office administrative tasks only delays you getting claims processed and money coming into your practice. A better idea would be to have a team of dedicated and specialized professionals handle the job.
Do you feel you are constantly in crisis management mode? Stuff is always breaking, issues are always cropping up. The lack of the right systems (or processes) is a common reason why practices are often disorganized. 
Small practices tend to have a lot of processes which are manual – bigger companies invest millions of dollars in software integration and automation – they have the scale to justify the return on that investment. However manual processes mean that all the checks and balances need to be put in manually. And you know what checking and reconciliation is? It is mind numbing, boring and repetitive. It is also the reason why a lot of practices struggle with staying organized.
And then there is the Domino effect…one breaks somewhere and the dominoes start falling until it becomes a situation where money is not coming in, the front desk staff are not asking patients for payment balance because they don't know how much to charge and everything is a big hot mess.
Lack of specialized expertise is another common reason medical practices are unable to run smoothly. It is important to make sound hiring decisions. If you notice the following issues affecting your office or facility, this is one of the contributing reasons:
Drop in patient satisfaction

Patient Balances not being collected timely

Administrative tasks getting neglected

Increase in employee turnover

Too much time spent on researching answers to questions on Internet 
Effective hiring can fulfill both short-term and long-term needs. Physicians nowadays are expected to do more than provide exceptional clinical services to save lives. Patients and their families also expect you to help them with relevant paperwork and save money. Both your clinical services and your office's administrative services have become important to developing long-lasting relationships with your patients.
Improper fee schedule is a common issue in practices and yet most physicians and facilities fail to realize it. Many practices are underpaid in the absence of current coding codes and optimal pricing. When you outsource to medical billing companies, it helps you keep on top of the latest codes. They will also guide you on the current rate for the services you offer
Breakdown of Costs - In-House Vs. Outsourcing
This cost breakdown of in-house billing versus outsourcing is based on a study completed by Physicians News Digest (Source). It provides you key insights into the work's findings. It takes into account a practice with three practitioners and two in-house medical billing employees. The practice files 80 insurance claims per day which come to $20,000 per year. Each claim is billed at $125 on average, which amounts to $2.50 million in claims per year. It is assumed that the billing team has a high collection rate on claims.
A comparison of in-house and outsourced costs and collections is as follows:
1. Cost of Maintaining the Billing Team
The average salary of two medical billing staff comes to around $80,000. Some of the additional costs associated with maintaining an in-house team are as follows:
Healthcare costs: $9,000

Federal & state taxes: $12,000

Training Costs: $2,000
There will be an additional cost to the practice in the form of the resources required to support the team. This includes the office space, paper, equipment, and miscellaneous costs.
The study factored in five hours of service time per week for managing the practice's billing. This was billed at $15 per hour. The overall administrative costs came down to just $4,000 per year. This is only a fraction of what it would cost for the efficient processing and management of your medical billing compared to outsourcing.
2. Claim Processing Costs
A provider that submits 20,000 claims in a year will cost $300 a month in clearing house fees if $100 is charged per practitioner. The cost comes to around $3,600 per year.
When you outsource to medical billing companies, they will typically charge a percentage of the amount that gets collected. This percentage varies based on the specialty. The study takes 7% as the average for primary care practice.
3. Billing Amount Collection
The percentage of revenue collected by a practice depends on the specialty. The study took 60% as the industry average for in-house bill collection rate. It was found that outsourcing can help a practice grow its collection rate by 5% to 15%. The average was found to be 10% growth in collections.
Overall, the cost comparison between in-house and outsourced medical billing services favored the latter. The most important factor working in its favor is its ability to collect a higher percentage of the billed amount.
Faulty Logic That Outsourcing Is Less Secure Than In-House
Now that the myth of cost benefits of in-house billing has been busted, there is another faulty logic about outsourcing – less data security. The fact is that outsourcing to licensed medical billing services makes your patient data more secure and safe than in-house billing.
The information on medical files is several times more valuable than other forms of digital data. A licensed and certified medical billing agency will follow practices and have systems in place that prevent any risk of a data breach at any level. Besides, the data is professionally backed-up to protect against any instance of data loss.
Ensuring Billing Compliance
A medical billing company should be HIPAA compliant to provide its services. The Health Insurance Portability and Accountability Act (HIPAA) sets the standard for the protection of sensitive patient data. Licensed medical billing companies will have physical, process, and network security measures in place to ensure total compliance. Compliance will be deeply integrated into all their operations. 
Such companies also keep up-to-date with the latest compliance standards and ensure adherence. They also hire only certified medical billing professionals. All these factors mean that you will not have to worry about the safety and security of sensitive patient data on your medical files.
When you keep your medical billing process in-house, you are losing money and the quality of professional service. At Neolytix, we provide HIPAA-compliant medical billing services that can be customized to address your practice's specific needs. We have years of experience in providing our services to different types of medical practices. When you leave all your paperwork to us, you and your team can focus on your core services. Our services are driven by the goal to help medical professionals get paid on time and patients get covered by their insurance. For more information about our services, call us at 224-365-8400 or write to us using this Online Form.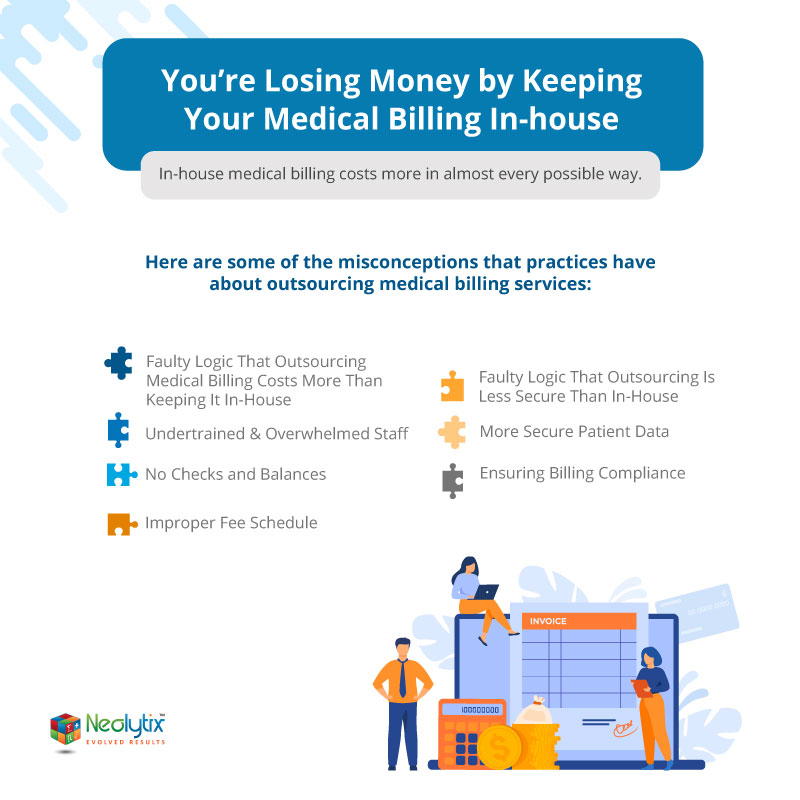 Get Help with Billing, Credentialing, & Virtual Assistants - Work With A Team of Experts