Speech therapy involves the assessment and treatment of communication issues and speech disorders. As a speech-language pathologist (SLP), you will be using a wide range of therapies and techniques to improve your patients' communication abilities and skills. Some of the common methods used by speech therapists include language intervention activities, articulation therapy, and various other therapies based on the type of language disorder or speech problem. As a speech therapist, part of your objective is to keep the costs low while providing the best possible treatment to your patients. Using a healthcare virtual assistant Services can go a long way in helping you achieve these goals.
Some of the most common disorders that are treated with speech therapy include articulation, fluency, receptive, resonance, expressive, and cognitive-communication disorders, dysarthria, and aphasia. Contracting a medical virtual assistant (VA) is much less expensive than hiring the services of a personal assistant. Virtual assistants are not employees and you will be paying for the number of hours you need their services. This can bring greater flexibility and you can scale as per needs. Besides, there is no need to pay for additional employee benefits.
There are many more reasons for choosing the services of virtual medical assistants. 
Who Needs a Virtual Medical Assistant?
Almost anyone working in healthcare, including speech therapists, can hire a healthcare virtual assistant. This also includes surgeons, physicians, dentists, psychiatrists, psychologists, specialists, and even veterinarians. Even if you have a team, you may contract the services of a medical virtual assistant to support the entire operation. Each team member may have certain needs and the combined requirements can translate into several hours of work. 
Benefits of a Healthcare Virtual Assistant
As a speech therapist, you have very limited time. You should not be wasting your time and skills by taking care of administrative tasks, including medical billing. You should be spending time with patients. This also applies to other healthcare professionals. There are many ways contracting a virtual assistant can benefit you. Most of these benefits contribute to cost savings in one way or the other.
1. Focus on Your Patients
You can spend your time listening to your patients and providing proper and complete examinations. You will have more time at your behest. There will be no need to rush through the appointments to find time for the medical billing and administrative tasks. 
You will be able to provide better patient care and fit more appointments into your day. This can help grow your revenue and practice. Virtual assistants can further help free up your time. You could use the extra time to develop new skills, conduct research, or engage in other activities that enhance your career. 
2. Provide Better Services
When you spend more time with patients, you can assess their needs better. Further, this will help provide better services. You and your team can focus your time, efforts, and resources on what to do best for patient care. Your virtual assistant can take care of the rest. The result will be happier and healthier patients. You can expect better reviews and more recommendations for your practice from such patients.
Virtual assistants that are specialized in providing administrative and customer service to medical professionals stay up-to-date on all the developments in the niche. They will typically be working for an agency and receive regular training. All you will have to do is determine the tasks you want to assign to them and provide onboarding that is related to your practice.
4. Access Services While Saving Office Space
Real estate is expensive. It is even more so in the healthcare industry. If you already have limited space to run your practice, it may be difficult to create space for a healthcare virtual assistant services. On the other hand, a medical virtual assistant can work from a remote location. There will be no need to appoint space or equipment for them. Thus, you will be saving space and saving costs while enhancing your practice. 
5. Get Access to Experience
Whether you need services for medical transcription, administrative tasks, or medical billing, contracting the services of medical assistants can provide you access to specialized experience. Instead of getting a personal assistant to provide online support and services, it is much better to choose the services of experts.
6. High Degree of Flexibility
As your practice grows over time, your clinical workflow will also grow. Your practice will grow larger and it will need support for new and more amount of tasks. You can contract the services of more virtual assistants as your needs grow. It may be possible to hire different assistants for the kind of expertise you need. As the size of your practice changes over time, you can quickly and cost-effectively make changes to the number of services you need. Again, this can help you maintain control over the expenses.
There are many more ways contracting a virtual assistant can help you save money and enhance your practice as a speech therapist. Hiring a personal assistant can be time-consuming and costly. On the other hand, it is simple and quick to hire a healthcare virtual assistant. You can have a pre-trained professional who can start working almost immediately. 
Such medical assistants can help your practice in gathering key demographic and patient information, patient health history, insurance details, procurement details, finance and costing information, and analyze records. A professional agency is HIPAA compliant and ensures the privacy and confidentiality of all the data. Choosing VAs can also help with the reallocation of your HR and IT resources, thus further reducing the health IT costs. The savings thus made can contribute to improvements in healthcare quality, patient outcomes, and satisfaction. And all this can be achieved without increasing the number of employees.
Thus, contracting a healthcare virtual assistant can help save money in a number of ways. It can also enhance the quality of patient care and your practice. Neolytix provides comprehensive services to SLPs and other healthcare professionals and healthcare facilities. If you want to learn more about the range of services that we offer, feel free to contact us today at 1-888-828-2585. We can also be reached via this Online Form.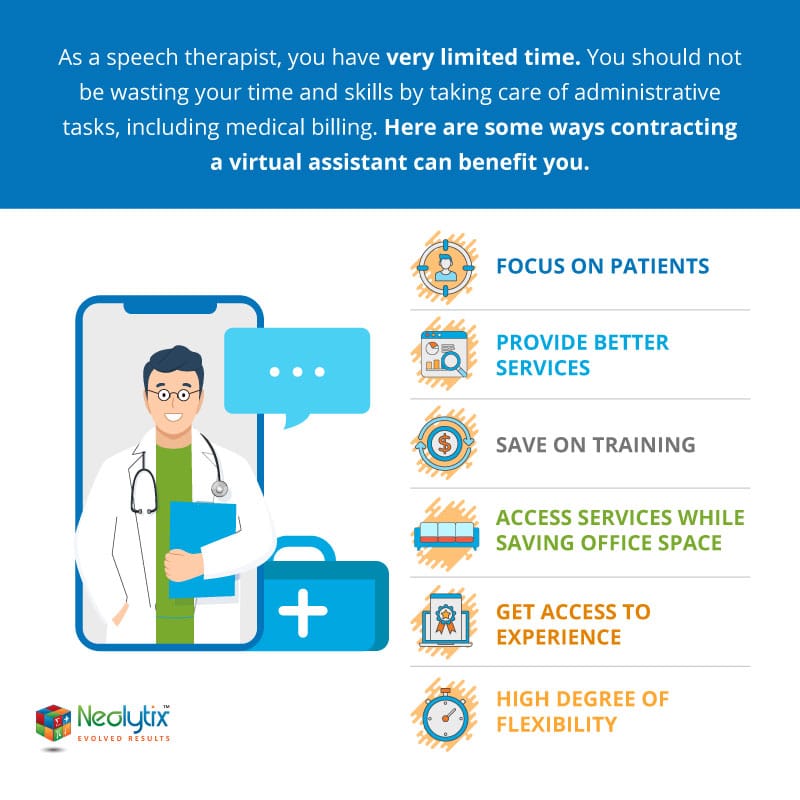 Get Help with Billing, Credentialing, & Virtual Assistants - Work With A Team of Experts