Medical providers continue struggling to find and retain reliable in-practice employees as the labor shortage continues in the U.S. Sourcing and onboarding new non-clinical staff takes time and the disruptions caused are detrimental to patient satisfaction. 
That is why virtual assistant services are expected to grow at an annual compounded growth rate of 34%. 
As many healthcare providers realize the ease and cost benefits of working with virtual medical assistants, they are now also realizing the benefits of hiring bilingual virtual assistants.
What is a bilingual virtual assistant?

 

Why is there a demand for bilingual virtual assistants in the U.S?

 

What are the benefits of hiring a bilingual virtual assistant?

Where do I find a reliable bilingual virtual assistant?

 



Take a break and watch this video to learn more about all the roles virtual medical assistants can play at your practice. 
What is a bilingual virtual

assistant

?
A bilingual virtual assistant is a person who is fluent in two more languages and works from a remote location. These virtual assistants contribute to the growth of a business by providing translation services and access to a different demographic. 
From a healthcare perspective, bilingual virtual assistants allow medical providers to communicate with patients in their preferred language, which goes a long way when it comes to enhancing the patient experience and fostering growth. 
But more about that later. Let's examine the demand for bilingual virtual assistants in the USA first.  
Why is there a demand for bilingual virtual assistants in the U.S?
13% of the U.S. population speaks Spanish at home and has the second largest population (54 million) of Spanish speakers in the world, right behind Mexico. 
According to the latest data, one in three Americans will speak Spanish by 2050, whether it is their first language or second language.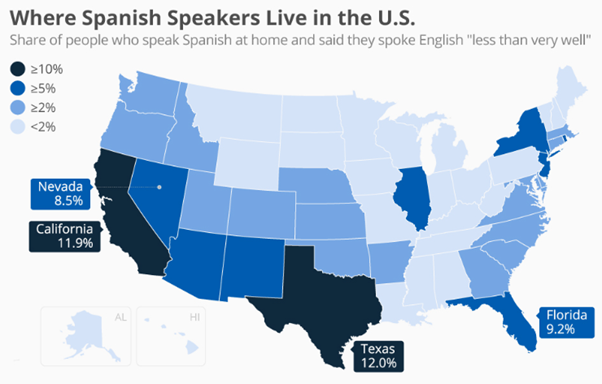 Source: Statista 
The five states with the most amount of Spanish-speaking people are: 
California           

10.4 million

 

Texas                     

7.7 million

 

Florida                   

4.4 million

 

New York               

2.7 million

 

Illinois                     

1.6 million

 
Given the current data and the projections for the growth of the Spanish language in the USA, it is becoming clear that inclusive marketing and patient experience strategies should be considered. 
That is why bilingual virtual assistants are becoming highly sought after. But what exactly can a medical provider gain from employing a bilingual virtual assistant?
What are the benefits of hiring a bilingual virtual assistant?
Hiring a bilingual virtual assistant is like buying a pickup truck instead of a car. Both will get you from A to B, but the pickup just offers that extra bit of versatility. Let's start by examining what the bilingual medical virtual assistant can do and how that can help to expand your medical practice.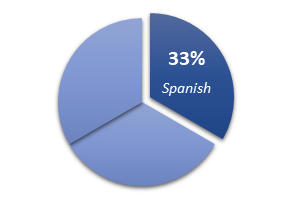 Percentage of U.S. population speaking Spanish by 2050
Reduce operational costs
Because the hourly rate of virtual assistants is lower than in-practice employees and providers only pay for the number of hours they work, the hiring of virtual assistants can lead to an operational cost of 70%. 
Neolityx virtual assistants can have an hourly rate of $7.99, which is far less than the hourly rate of an in-practice employee.  
Regardless of the type and skillset of the virtual assistant, and whether it is a bilingual virtual assistant or not, medical providers will see a drastic reduction in costs because of the following factors. 
Lower hourly rates

 

Higher productivity due to extensive back-end monitoring (therefore, fewer hours are required to do the same work as an in-practice employee.

 

No paid annual leave, sick leave, maternity leave, etc. )

 

Fewer hardware costs (desk, computer, etc.) 

 

Fewer software costs (licenses for programs and applications) 
The savings generated from the reduction in costs could be applied elsewhere, like marketing, which would help the patient growth of a practice. 
Increase the flow of patients to your practice
The more obvious benefit to having a bilingual virtual assistant is that the medical provider is now able to provide services in the patient's language of choice. This makes the practice more attractive to a wider range of potential patients. 
The Spanish offering is not just limited to making and receiving calls, but the bilingual virtual assistant can also assist in translating written communication and marketing content.  
Improve patient retention 
Building and sustaining long-term relationships is vital when it comes to maintaining a predictable cash flow cycle at your practice.  
When patients receive service in the language of their choice, it lessens the communication burden and improves their perception of the practice. These patients are less likely to seek alternative providers when they need medical care in the future. 
Harnessing technology to improve service quality
Neolytix's bilingual virtual assistants are armed with best-in-industry omnichannel platforms that combine all forms of communication, including calls, texts, live chat, etc., onto one platform where it is analyzed by A.I. to detect trends and improve future communications.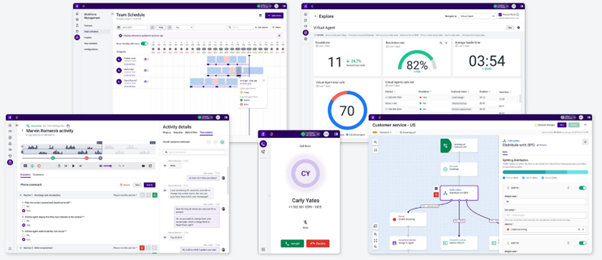 In-depth analysis and reporting of all forms of communication 
Source: Talkdesk
The A.I. analytics can also be performed when virtual assistants use other languages, such as Spanish. That means that even if the medical provider does not speak Spanish, they are still able to understand the quality of service the bilingual virtual assistant is providing.  
Calls, for instance, are transcribed and analyzed by the system, which then determines the patient sentiment. In-depth reporting on communication and productivity can be provided frequently or on demand, depending on the needs of the medical provider.
Targeted marketing efforts to improve brand awareness
Your bilingual virtual assistant can do so much more than just make and answer calls. Bilingual virtual assistants can help create and translate marketing content, which would then appeal to a different audience. 
They can assist with email campaigns, social media, and also managing online testimonials, which we will get to in a minute. In addition, providing Spanish content that more people can digest could also improve the SEO of your website and increase its rankings on the search results pages. 
Improve your online reputation
The need to have a sterling online reputation has become pivotal to practice growth over the last ten years. The more positive the online sentiment of a healthcare provider is, the more likely they are to attract new patients.  

Source: Healthcare Tracker Report 
According to the 2022 Healthcare Trends Report, 72% of potential patients read online reviews to aid them in selecting a healthcare provider.  
Neoltyx bilingual virtual assistants can elicit reviews from Spanish-speaking patients and respond to Spanish testimonials online. English-speaking medical providers don't have the skills or time to translate responses for online testimonials, but bilingual virtual assistants can do that. 
Where do I find a reliable bilingual virtual assistant?
Bilingual virtual assistants can unlock a wide range of benefits for medical providers. In short: 
As the percentage of Spanish-speaking people continues to increase, the need for inclusive communication and marketing is becoming more important.

 

Bilingual virtual assistants reduce operational costs by up to 70% due to their lower hourly rate and savings incurred on no paid leave, hardware, software, training costs, etc.

 

By offering service in the patient's preferred language, more Spanish-speaking potential patients will be attracted to the practice and continue to come back in the future.

 

Neolytix bilingual virtual assistants harness cutting-edge technology with speech analytics that tracks their performance and provide reports that medical providers can assess to determine if their Spanish-speaking patients are getting quality service.

 
By adding Spanish marketing content, medical providers can enjoy greater brand exposure.

 

Bilingual virtual assistants can improve the patient experience and the practice's online reputation by eliciting and replying to Spanish online reviews and testimonials.

 
Neolytix has been serving small to medium medical practices for over 10 years. Our bilingual virtual assistants harness breakthrough technology that seamlessly integrates with practices without the hassle and additional complications while overseen by a dedicated onboarding lead.  
The omnichannel platform provides AI-analyzed reporting on the quality of service so that medical providers can rest assured, knowing that high-quality service standards are maintained. 
Complete the form below for a free, no-obligation quote and learn more about our 25% discount promotion on virtual assistant services.