Potential ROI on Hiring A Virtual Assistant
The reason you haven't hired a virtual assistant
Likely the reason you haven't already hired a virtual assistant is because you think that they are too cost prohibitive. Is that true? Do you believe that? Or do you believe that hiring a virtual assistant means you'd lose time and money training them before the benefit would pay off? Let's discuss both beliefs.
What do you actually believe?
Vetting VAs on your own can be a crap shoot quite honestly. Do you have time to interview and check references on a virtual assistant before hiring them? Most physicians don't. You're too busy with your daily patient load to take time out to interview a relative unknown. And that's the crux of it, isn't it? You're busy and need help, but too busy to subject yourself to the hiring process. 
Most of the time, physicians hear about virtual assistant services through word of mouth. Maybe you've even had experience with hiring a virtual assistant but it didn't go well and now you believe that hiring one isn't for you. Don't let a bad experience ruin the opportunity to let the right VA change your business life.
Understanding what a virtual assistant can do for you
The right virtual assistant can mean the difference between where you are right now and where you want to be in three months. Stressed, overworked and grumpy? How long do you want to stay in that state of mind? Getting the right help at the right time can not only improve your quality of life at work but at home as well. You'll have more time and less anxiety to spend with your family. 
The right virtual assistant can slide in and take over the controls to relieve a good majority of stress. In fact, many physicians don't realize how much stress they had until it was alleviated by the right virtual assistant for them.
The return you get on investing in a virtual assistant can be tremendous or it can be a disaster. It depends on a couple of factors– specifically, time and money. 
One of the drawbacks to hiring anyone is the training time it will take to get them up to speed. If you hire a general virtual assistant who isn't familiar with the healthcare industry, then it's going to take you longer. You'll have to train that person which as you undoubtedly know will take time from your patients. You could have the office staff train your VA but that requires an extraordinary amount of faith in your staff. If you have that kind of staff, then great! But it's still going to take time away from their duties, including patient care.
It will cost you more money during this training time before it starts to even out. Depending on how quickly your VA catches on will determine how long you have to wait until your ROI arrives in your favor.
What does the right virtual assistant for you look like?
There's another way for you to improve your odds of hiring a VA that is exactly what you need while cutting the time it takes to train your VA and preserve your patient care standards and get a faster ROI. Go to a virtual assistant managed service.
With a managed service, you completely bypass the learning curve. Virtual assistants in a managed service are already well-versed in the healthcare industry. This means they know the medical jargon as well as how to do medical billing, credentialing, etc., which saves you money and gets you faster down the road to the ROI. 
A managed service that specifically offers healthcare virtual assistants is going to be able to insert that person into your current workflow without worrying if they can keep up (they can). A managed VA service can have a positive impact on your business and more importantly, the quality of your life. Reduced stress and anxiety, improved focus and total attentiveness to your patients is the goal and you could have it all right now.
What if we helped you get your life back? What if we can help you like we've helped so many other physicians who were struggling with the same thing? What if we could give you the gift of increased production and quality of service for your patients? What would that look like to you? More importantly, what would that FEEL like?
Growth and freedom? Somebody call a doctor!
At Neolytix, our task master VAs are experts in the healthcare field and already know how to be an efficient VA. They aren't healthcare newbies; they've worked in the industry for a while now. A managed service is the difference between a VA doing healthcare work and a healthcare task master professional changing the flow and quality of life your business runs on.
Of course there are other companies out there who offer medical billing services, credentialing services, etc. What's so special about Neolytix? Why are we different? Because we recruit only the best talent. Every virtual assistant is selected for the specialized skill set they have not found anywhere else. This allows us the industry advantage when it comes to tricky questions about medical billing, and credentialing and coding. We're the people other people go to when they can't figure it out.
The amount of time our clients save from not having to train our VAs gives them a significant lead time in their own business. They can keep moving forward without needing to stop to train our VAs- they're already trained. We also have back-ups in case something happens. We've always got our clients covered. We're always ready to pick up the heavy load of their business and hump it over the finish line.
Why should you choose us?
We save you time AND money by doing it right the first time. We save you headaches by anticipating problems, and then forming strategies to eliminate them. We are your bodyguard shielding you from the convoluted world of insurance credentialing, and other complex procedures that have to be followed. Most of all, we know how much further physicians get with the growth of their practice when they don't have to deal with the day-to-day office tasks. In short, we keep you in your zone of genius.
And why is that important? Because that's what you went to school for. That's your skill set. You were meant for the bigger picture. Your skills are best suited to saving and prevention of lives, not worrying about tasks that can be outsourced. We have the ability to recognize the value of your skill set and where it's best used. In doing so, we optimize every single person who works for you.
So the decision is yours. You can continue along- frustrated and unable to grow because you're so bogged down on the details that you don't get a chance to see the overall picture of your practice. Or you can call us and let us walk you through what it would look like to have one of our task masters managing the business side of your practice.
If you need more information about our services, call us today at 1-888-828-2585 or write to us at sales@neolytix.com. You may also visit our website to learn more about our services.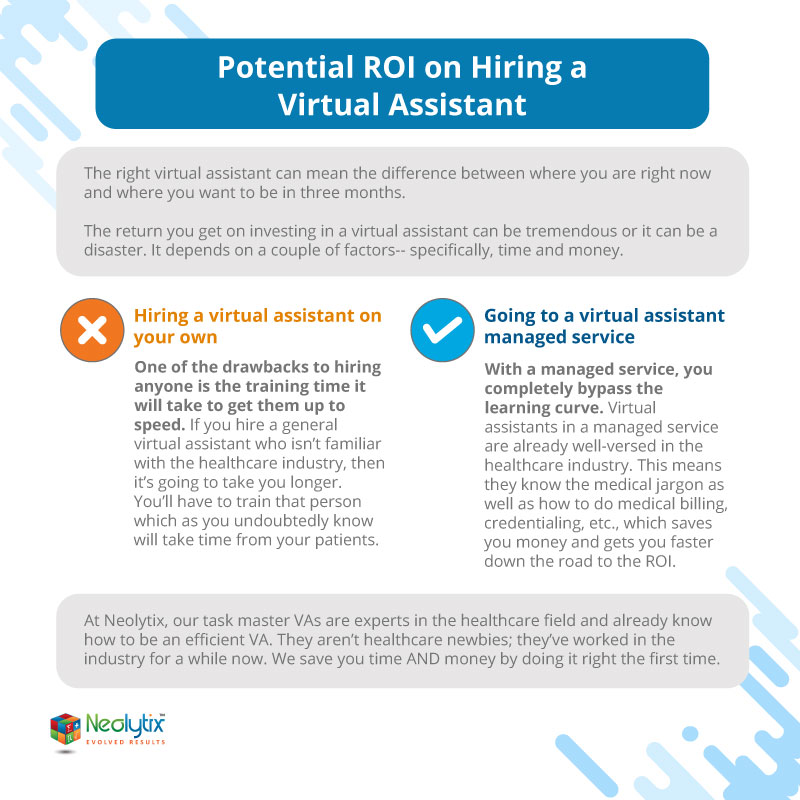 Get Help with Billing, Credentialing, & Virtual Assistants - Work With A Team of Experts