Potential ROI on Hiring A Virtual Assistant
It has been proven beyond doubt that not designating tasks to support staff creates a big drag on processes for professionals. Especially when you are a professional working independently, it is important that you focus on your core practice instead of distributing your attention on other tasks supporting it. Not having a power team to support your practice can affect your overall efficiency and revenues. And this is even truer for medical practitioners. Healthcare systems are complex and effective teamwork is critical for your practice's growth. 
Why is a power team so important for your practice? In this guide, we would like to shed some light on the importance of teamwork and the need for you to partner with a power team to grow your practice's bottom line.
Making a Difference for Your Practice
As a healthcare practitioner, you have a big responsibility on your shoulders. In one way or the other people's lives depend on what you do. Imagine having to carry a massive log all by yourself. Even when you can carry it for a short distance, the strain and potential injuries it can cause cannot be overlooked. You feel the pain and start getting into your head to doubt yourself that you can do it. The chances of being able to carry that log by yourself for long are small. The same rule applies to your practice. Having the right team can make your burden much less. And you can always carry the log, reminiscent of your duties and responsibilities, for much longer.
It is not just about having any team. You should have the right team to support your practice. You need a 'power team' that is geared towards supporting your practice to create the ideal system. This includes handling the simplest of tasks that can have a profound impact on how your practice is run. For example, organizing all the faxes that come in and logging them in a way that none get missed and can be accessed readily when required. Interestingly, things like this are typically not prioritized by every team. Doing such things right can prevent the frustration that comes when things go bad.
You need a team that prioritizes and does things as per your instructions and without your intervention.

Those providing task-specific and indirect services in a healthcare facility have 24-hour accountability for the functioning of the office. You need a team that is effective and coherent and shares your goals.
The last thing you want to do as a healthcare practitioner is to focus your time and energy on your non-core specialization like managing your office. You must attend to your patients and their health issues, which is your core specialization, instead of managing the faxes, appointments, insurance, and other tasks. When you partner with a power team, it will help lighten your load. 
A power team should bring the following benefits to your practice and its success:
Possessing specialized skills and knowledge and having the ability to function under high-workload situations.

Knowledge of their own role and that of others in the team and interacting with each other to achieve the common goal.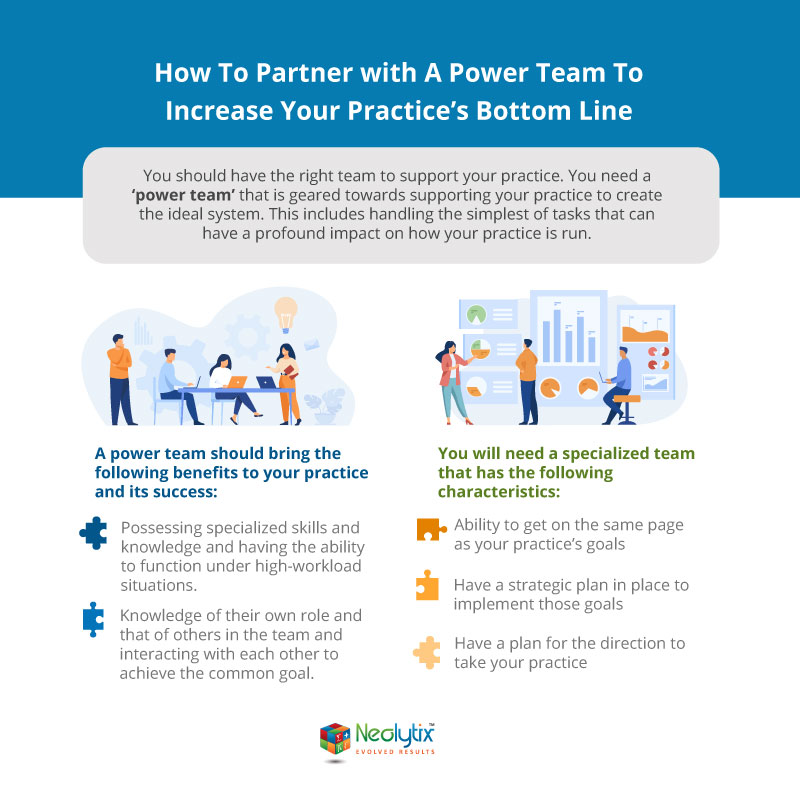 How a Power Team Can Make a Difference?
As already mentioned, you cannot just have any team to help you carry the massive log that your practice is. You will need a specialized team that has the following characteristics:
Ability to get on the same page as your practice's goals

Have a strategic plan in place to implement those goals

Have a plan for the direction to take your practice
A power team aligns with your practice's goals to create shared goals. They know how to create a common and clearly defined purpose that comprises collective interests, demonstrating shared ownership. Each team member will have clear expectations for their responsibilities, functions, and accountabilities. This helps optimize your power team's efficiency. Other key attributes of such a team include effective communication, measurable processes, and leadership qualities.
Benefits of Having a Power Team Onboard
Having a power team to empower your practice can make a big difference in your facility's success. Such an effective team can help enhance care at different levels – the organization, the individual team member, the overall team, and the patients.
Your practice can experience the following benefits:
Reduction in time and cost of hospitalization. Patients will feel greater satisfaction with care.

Greater efficiency in the use of healthcare services.

Services will become more accessible to your patients. This will benefit the patients in the form of improved quality of care and health outcomes.
Drawbacks of Not Having a Power Team
As a medical practitioner, your goal is to reduce medical errors and enhance patient outcomes. This is possible only when all the different functions in your office take place efficiently and accurately. The lack of a power team could mean the following for your practice:
More frequent coding and billing mistakes

Delays in insurance processing

Decline in overall productivity

Impact on patient engagement and satisfaction

Increased costs of billing activity

Impact on cash flow due to slower claims processing
All these factors will cost your practice, both in the short term and long term.
Your Practice - 6 Months from Now
Your practice has several goals – not just growing your revenue and cash flow, but also to facilitate proper and timely treatment to your patients. Where do you expect to see your practice in the next six months? The scenario will be much different depending on whether you create a power team or not.
Some of the benefits of having a power team empowering your practice are as follows:
Finding more time for your patients

Reducing operational costs

Improving cash flow

Growing your practice
The right team can help reduce or eliminate errors and mistakes. This can be a critical factor contributing to the success of your practice.
So, how do you build a 'power team' that is best suited for your practice type and size? At Neolytix, we can equip you with the right talent and resources required to make your practice more efficient and productive. Feel free to call us at 224-365-8400 or send us your queries using this Online Form.
Get Help with Billing, Credentialing, & Virtual Assistants - Work With A Team of Experts