Potential ROI on Hiring A Virtual Assistant
New Year brings with it hope. It is the hope of improvement, growth, greater profitability and efficiency, better health, and many more positive things. Most people will set goals before the New Year. However, most of them never materialize. When it comes to a busy physician, resolutions of improving their medical practice and patient care can be the top priorities. You want to spend more time attending to your patients and less on administrative tasks. You want to grow your patient walk-ins, revenues, and profits.
How New Year Resolutions Fade Away After Some Time?
As a healthcare practitioner, you are always striving to improve the quality of care you provide. And most of the results will come from how you manage your practice. This includes the administrative part of the work and how your team coordinates and completes the tasks efficiently.
Some of the most common New Year resolutions that healthcare providers make include:
Improve Patient Satisfaction

: Healthcare changes are pushing physicians to care for patients during shorter visits while taking care of all the administrative tasks.

Optimize Your EHR Time

: Many physicians aren't fully satisfied with how digitization has delivered on the promise of making their practice more efficient and simpler. This is why many healthcare professionals want to adopt smarter solutions to optimize their EHR time.

Growth Goals

– Increase the number of clients, appointments, or revenue goals you decide you want to achieve.
Some of the other common New Year resolutions for care providers include improving patient communication, streamlining patient chart updates, finding time to stay up-to-date with the latest research and innovation, strengthening data security, and finding the right work-life balance.
All these changes can bring about major changes and growth in your practice. However, it is unfortunate that most practices are unable to realize most of their New Year resolutions. Many will start strong in January, but by March they have mostly given up on their goals.
One of the common issues is that most people, including healthcare providers, often choose unrealistic goals. Most think that they will become a completely different person in the New Year. As a medical practitioner, you can expect the same results as anyone else when setting your practice goals for New Year. You have all the intentions to make the changes and improve and grow your practice. However, by the second or third month, you get overwhelmed by your daily routine. All the daily details and the rush to keep up with them means that your goals get muddled in and you forget them for most of the time.
A Blueprint Strategy for Resolutions that Stick
You make New Year resolutions every year. You want to make your practice more efficient and productive. However, you never get around anywhere and get stuck in the seemingly 'quagmire' of your everyday routine. It is highly likely that you spend only 25% of your time attending to your patients and 50% of the time dealing with the administrative burden.
So, how do you create a blueprint strategy for resolutions that stick?
Set Simpler Goals & Expectations around Timeline
You should set simpler goals and solid expectations of how long each part of your plan is going to take. The plan and timeline should also be backed by the tasks you will be doing to achieve the goals.
If you really want to create a blueprint of New Year resolutions that can be achieved, set simpler goals. The goals should be easy to achieve. It should be something that you can scale up to a more complex resolution later on. 
It is recommended to do your research on the changes you want to make and plan ahead. You can read up on the improvements you want to make. When you do enough research, you are more likely to put yourself on the path to achieving the thing. 
For example, if you have been thinking of seeking some professional help in managing your administrative tasks, it is best to start by doing some research on the subject. It can provide you valuable insights and plan the tasks that you want to outsource and identify the management service organization (MSO) that best meets your requirements.
Surrounding Yourself with the Right People around You
Taking a cue from the above-mentioned example of a New Year resolution, you should assess the need for the essential staff required for handling each aspect of your plan. Some of the key tasks you would want to outsource include:
Accounts receivable

Following up with insurance companies

Medical billing & coding

Insurance claims process

Insurance claims denial management

ICD/CPT coding

credentialing

Reports generation

Future growth strategy & implementation

Improving the consistency & follow-up of your practice
And many more. Each task should be assigned to a specialized professional. If you want to be successful in timely and efficient completion of administrative tasks, it is best to let the specialists take care of it. Multitasking these tasks yourself with the help of your tiny in-house team is a recipe for disaster.
One of your related New Year resolutions should be to stop multitasking. It is damaging to the brain and your practice. It is best to work on multiple smaller tasks to complete a bigger goal. Break down your goal into smaller parts, with each part having its own deadline. So, it is best to hire the services of experts who are specialized in handling each aspect of your tasks.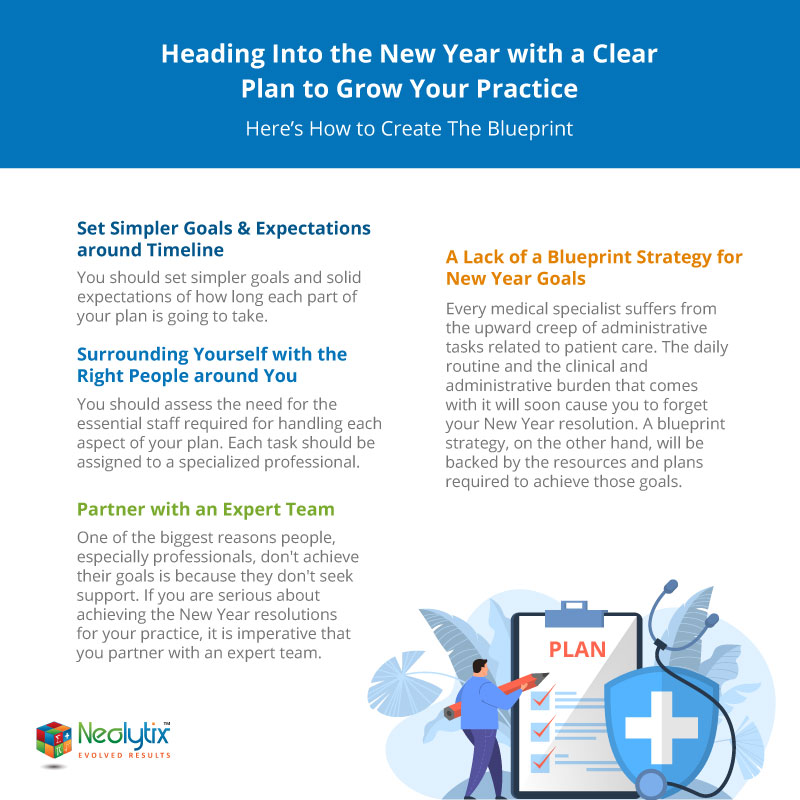 Partner with an Expert Team
One of the biggest reasons people, especially professionals, don't achieve their goals is because they don't seek support. If you are serious about achieving the New Year resolutions for your practice, it is imperative that you partner with an expert team. 

Studies show that seeking professional guidance and recommendations has a major impact on achieving goals. Remember, it is almost impossible for a professional to be successful if they are a lone ranger. You must surround yourself with advisors and experts who are going to support your practice and help you achieve your goals.

If you cannot find the right people, it is best to hire the services of an MSO with experience in supporting physicians and other healthcare professionals. You would be surprised to learn about the difference it can make in helping you realize your New Year resolution.
A Lack of a Blueprint Strategy for New Year Goals
Every medical specialist suffers from the upward creep of administrative tasks related to patient care. The daily routine and the clinical and administrative burden that comes with it will soon cause you to forget your New Year resolution. A blueprint strategy, on the other hand, will be backed by the resources and plans required to achieve those goals. 
Your monthly, quarterly and annual revenue goals are going to get affected. If your goal was to boost your efficiency and productivity as part of the day-to-day operations, the absence of a plan will mean that you will soon lose track of the procedure that needed to be followed. 
Your New Year resolutions do matter. And they are achievable only if you can create a blueprint strategy with an action plan. If you want to improve and grow your practice, we at Practice Tech Solutions can help. We cover all aspects of your practice marketing challenges. If you want to discuss your goals with us to grow your practice, call us at 1-888-828-2585 or reach out to us here.
Get Help with Billing, Credentialing, & Virtual Assistants - Work With A Team of Experts