Perhaps you heard from a colleague about virtual medical assistants or read about their efficiency only. Maybe you are overwhelmed with unnecessary tasks that distract you and consume a disproportionate amount of time and money.
You are considering hiring a virtual medical assistant (VA), but you are faced with a fundamental question…
Is the juice worth the squeeze?
We published many in-depth articles in the past, but we decided to order the vital information and showcase it in one article to save you time.. saving time- just like our VAs could.
Let's start with one of the main pillars supporting any organization; growth.
Grow your practice with skilled virtual medical assistants
An ever-increasing important facet of business growth in modern times is consumer perception or, in your case, patient perception. Creating, maintaining, and sustaining long-term relations is key to surviving in an environment where consumers/patients are spoiled for choice and becoming ever pickier about service providers.
Creating long-term relationships
One of the main reasons why clients opt for VAs is because you can select them according to their skillsets. One of the skillsets that certain trained professional VAs could contribute to your practice is marketing skills.
In one of our previous articles, we went in-depth about the benefits VAs provide from a marketing perspective. In short, they can help with content creation, social media posts and responses, email marketing, and basically whatever else you want a marketing expert to do for your practice.
By becoming more engaging online and building a trusting reputation, prospects will be more persuaded to try your services.
Maintaining long-term relationships
Maintaining friendly relations with your patients is the key to patient retention. Regular in-house assistants may become complacent with their jobs, as you may have found in the past, and sometimes, this complacency leads to less than desirable client interaction.
Virtual medical VAs are monitored from multiple sides and are trained to give top-notch service 100% of the time. Whether answering calls, emails, or via an online platform, they have the training and experience to treat your patients like royalty.
Sustaining long-term relationships
VAs are trained to keep existing clients calm and content and have them return to your medical practice. Beyond all the aforementioned tasks, they are also experts in dealing with all the other administrative tasks involving patients and your practice.
Apart from ensuring that the billing process runs smoothly, helping with prescriptions, reminding patients of appointments, and more, they could also add that little extra to your patient experience, like sending birthday messages or other festive greetings.
Hiring virtual assistants provides a healthy ROI
Many providers are under the impression that hiring virtual medical assistants is a costly exercise- an unnecessary expense that they have to accrue.
Previously, we discussed some of the false perceptions regarding hiring medical VAs and the misconceptions regarding ROI in another article. For now, we would just like to focus on the ROI on medical VAs.
Your initial investment could be costly both financially and timewise if you don't source your VA optimally. The vetting and training process could cost a lot of man-hours which translates to money lost.
You can cut out the hassle and time spent by using a professional service provider that could supply you with a VA that is practically plug-n-play. Apart from a bit of time spent on onboarding, you will have one with all the desired skills and experience in the fields you choose.
Apart from training time, not to mention overhead costs such as buying office equipment and furniture and sacrificing space, you also save on salary costs. Hiring a full-time assistant means that you'll have to pay that person even during the quiet hours when they improve their solitaire skills. With a VA, you pay for the exact amount of hours. The monitoring and quality control of their work is done in the background by the service provider.
Hiring virtual assistants can save your practice money
We briefly discussed above how VAs have very prominent ROI, but there are many not-so-obvious ways that they contribute to the financial growth of your practice.
In one of our previous articles, we discussed how professional VAs play a role in the stability of your business through their influence on patients. A happy patient is a returning patient, and agency VA's have the training and experience to excel in patient liaising. They are also closely monitored, which means exceptional service is delivered every day.
Certain VAs are also skilled in digital marketing and could get involved in managing your online presence, from social media posts to email campaigns. You will save the money you would've spent on a digital marketing specialist or the time you spent doing so yourself.
Their experience in certain fields, such as credentialing, could save your practice time and make sure that everything is shipshape from a due diligence point of view. They help in shortening the processes and saving you from getting involved in the processes yourself. In both cases, the opportunity costs would've carried a hefty price tag.
Compelling reasons for hiring virtual assistants
If you are still not convinced that hiring a virtual medical assistant is best for your business, we strongly recommend that you read one of our previous articles, which used six points to support this argument.
To summarize:
VAs are the glue for keeping your office administration in place
VAs are pros in communicating with patients and other stakeholders.
VAs support growth through client acquisition and retention.
VAs keep authorizations and verifications up to date
VAs can streamline your telehealth services
VAs can be the best bad cops.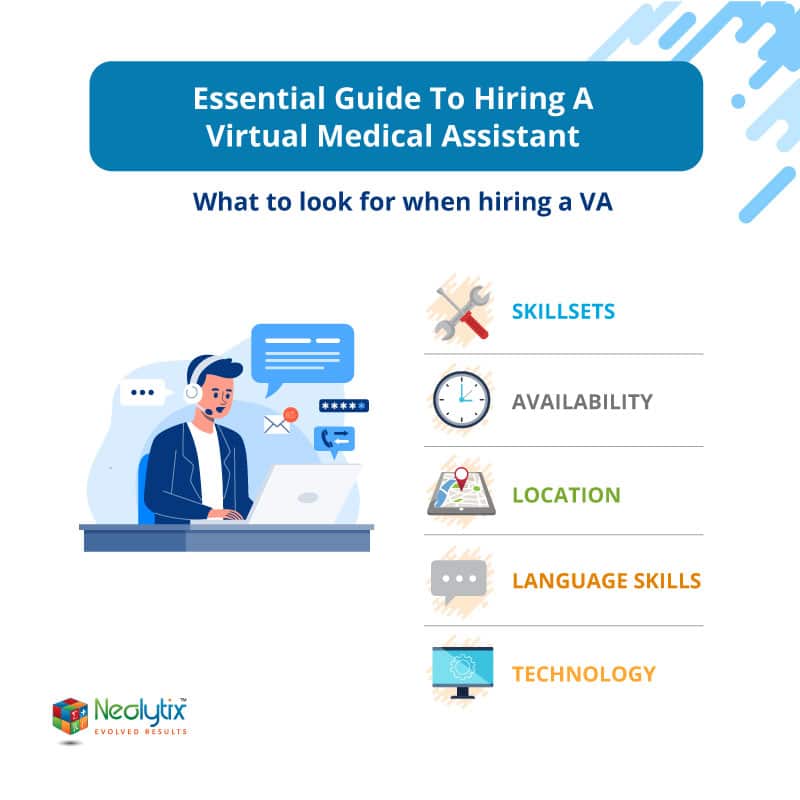 Let's hover around that last point for a second. What is meant by VA's being good 'bad cops'? An excellent example to use is following up on outstanding payments. VAs have excessive training in dealing with clients in all types of moods. They are basically fitted with duck feathers on their back, which means they will remain stoic and professional in all situations. 
You don't have to make the tough calls and have difficult conversations with your patients. VAs can do that for you and remain calm, thereby not tarnishing your practice's reputation by being rude or snapping at clients. You, on the other hand, remain the hero and can just continue to focus on supplying superior medical care. 
What to look for hiring a virtual assistant
Now that you are convinced that finding a virtual assistant would be in the best interest of your business, you need to think about what exactly you expect from this new breath of fresh air in your practice.
We published a comprehensive article stipulating the key areas our clients can focus on before selecting a medical VA. Let's revisit the key highlights from that article.
Skillsets
As mentioned in one of the previous sections, VAs are equipped with various skillsets, and it all depends on what exactly you want. If you need someone just to handle the overflow of calls and you live in a socially diverse area, perhaps consider a multilingual VA to provide service in your client's mother tongue.
Or, as mentioned, perhaps you want someone to do all the office administrative tasks but also take on social media responsibilities, then request the VA with those specific skills.
You'll also be elated to know that there are even VAs who are registered nurses and VAs with knowledge in setting up and managing basic telehealth.
Availability
Whether you need someone to be there the whole day, over weekends, during nights, or perhaps just for an hour or two a day, you get to decide the hours and tasks.
Even if you need a VA just to get you through the grit during a busy period, you have the power to decide how long and for what hours of which days you need them.
Location
Whether you want someone from your own geographic region or abroad, you have the option to select what suits you best. Local VAs may know more about the ins and outs of the American medical system, which will lead to fewer errors.
Offshore VAs may need additional training or onboarding time. Remember that even if you opt for a VA that resides out of your country, that doesn't mean that you are limited to the hours of the day that they would be available.
Language skills
As mentioned before, you also have the option to select VAs that are bilingual or multilingual. Having a VA that can serve your patients in their mother tongue adds that little extra to your offering that could make you stand out from the practice around the corner.
Technology
Do your homework well before selecting a VA agency. Not all are equal. You would want a VA with access to specific platforms that will streamline operations. For instance, the credentialing process becomes much more efficient when automated.
Make sure that the company you select has state-of-the-art technology available to the VA, which would provide them with the tools to become experts around the office.
Neolytix is a one-stop shop for virtual medical assistant services. With services ranging from billing, credentialing, insurance benefit verification, and all those services mentioned before, Neoltyix offer onshore and offshore options.
For more information, please complete the box below for additional no-obligation information and consultations.