Revenue cycle management in healthcare is often mistaken for the medical billing and coding functions of medical practice. Revenue cycle management (RCM) is more than just billing and collections. It begins with the first patient contact and ends with a response to an online review.
Revenue Cycle Management (RCM) is a vital part of healthcare. This article will explain what RCM is, why it is essential, and how it can help your practice. Optimizing RCM can bring a variety of benefits.
Take a little break, grab a beverage, and watch our video below, explaining the differences between billing and RCM. If time is not on your side today, simply scroll down past the video.
What is Revenue Cycle Management in Healthcare?
Revenue cycle management in healthcare is a process that manages the financial aspects of healthcare. It begins with patient registration and ends when payment is collected. It may even involve activities beyond collection. It comprises interrelated processes, including patient registration, insurance verification, medical coding, billing, and payment collection.
RCM plays a crucial role in the financial well-being of healthcare organizations. It is vital to guarantee that providers receive reimbursement for their services promptly and accurately.
The Goal of RCM is two-fold. Firstly, it ensures that healthcare providers receive accurate and timely payment for the services they provide. Secondly, it provides patients with a positive experience. This is illustrated in the diagram below.
Healthcare organizations use various technologies to simplify the revenue cycle management process and reduce errors and inefficiencies. These technologies include electronic health records (EHRs), practice management systems, and billing software. Effective RCM requires close collaboration between different departments within the organization, including clinical, administrative, and financial staff.
Why is RCM important to Healthcare Practices?
Practices that are inefficient can quickly go unnoticed. Staff are too busy and lack the resources to look into and report on the same inefficiencies that keep happening. In addition, the silo effect within certain departments and the lack of overarching accountability can hinder the discovery of such efficiencies.
RCM assists healthcare organizations with efficient financial management. It also ensures they receive reimbursement for services in a timely, accurate way. This contributes to the financial stability of the organization.
Improved patient experience:
RCM streamlines the billing and payment process. This reduces confusion and frustration for patients. It leads to a better overall experience.
Compliance with regulations:
RCM helps healthcare organizations comply with billing and reimbursement regulations, such as the Affordable Care Act and HIPAA.
RCM helps healthcare organizations to collect, store, and analyze data related to patient care, treatment, and billing. This information can be used to improve patient care and make informed decisions.
By improving the efficiency and accuracy of the billing and payment process, RCM can increase revenue for healthcare organizations. This can help them to continue providing quality care to their patients.
RCM plays a critical role in healthcare organizations. It helps improve the quality of care they provide to patients and ensures their financial health and sustainability.
Elevate Patient Care and Boost Revenue
with Neolytix Rev+ Program
Empower your practice to elevate patient care while optimizing revenue
What are the financial implications of proper RCM?
The outsourcing of healthcare revenue cycle management is becoming increasingly popular. This suggests that many healthcare providers, practices, medical centers, and hospitals are recognizing its advantages. The medical industry is in a state of flux, and this trend is likely to continue.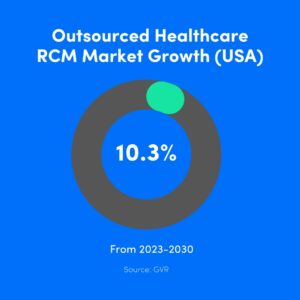 The healthcare market size for outsourced revenue cycle management is predicted to grow 10.3% annually from 2023 to 2030. This is based on the latest research. There is a healthy trend emerging for outsourcing RCM services. This is due to the potential for direct cost savings.
The reason why there is such a healthy trend emerging for the outsourcing of RCM services relates to the direct cost savings associated with the following:
Proper leakage analysis is detected across the entire revenue cycle and is not limited to specific portions.
It is upskilling at lower costs. Outsourcing RCM to renowned experts is more affordable than upskilling in-practice administrative personnel.
Revenue increase. With experts at the wheel, having an eagle eye across the entire process, they are more efficient at optimizing income streams and eliminating snags that slow down or prevent financial inflows.
Improved insights: The third-party vendors have the capacity (primarily included in SLAs) to provide in-depth monitoring and reporting frequently.
Compliance-risk reduction: The odds of receiving penalties for non-compliance are minimized.
We already published an in-depth article if you wish to learn more about the ROI of partnering with an MSO.
What is the easiest and most cost-effective way to boost your revenue cycle?
There is a rising tendency nationwide for healthcare providers to seek out solutions that could benefit their practices in the long term, and that improve their chances of having a better work-life-balance as well as allow them the freedom to spend more time on providing healthcare services than fighting fires on the administrative front of their businesses.
Healthcare providers can choose to upskill themselves, investigate, map, and optimize processes to follow best practices for maximum financial prosperity. This saves time for providing patient care, rather than outsourcing revenue cycle management. The same applied to Non-clinical staff as they can get easily distracted from their daily routine activities. This can lead to disruptions and eventually result in revenue loss.
Neolytix is a Management Services Organization with 10+ years of experience. They provide end-to-end non-clinical support with a consultative approach. This can help practices of all sizes optimize their revenue cycle management processes.
Providers can improve their practice's future financial stability by taking this path. This will help them to retain their independence and improve their work-life balance. Crucial patient time will not be sacrificed.
Schedule a free, no-obligation consultation. Find out how you can create a robust RCM framework for your practice. Increase financial strength now and in the future.
Schedule a Free Consultation to learn more about optimizing your revenue cycle
Complete the form and someone from our team will be in touch with you!