If you enter "benefits of revenue cycle management in healthcare" into a search engine, most organic results only deliver high-level generic benefit statements. You'll mostly see points like:
Reduced operational costs
Improved revenue
Better governance compliance
Better patient experience
But most of these articles leave it at that. They don't elaborate on the relationships between processes, quantitative data, etc. In other words, the mechanics underneath the statements mentioned above. In this article, we will dive deeper and look at some numbers behind revenue cycle management services and why you should consider outsourcing your practices RCM.
To those still new to differentiating between medical billing and revenue cycle management, please don't fret. We've got you covered. Take a break and watch the video below highlighting the differences between billing and RCM.
If you're well-versed in revenue cycle management services and ready to dive deeper into the details, skip to your desired section in the table below.
What is Revenue Cycle Management?
Revenue cycle management (RCM) is a crucial process for healthcare practices. It involves the tracking and management of patient financial information, from appointment scheduling and registration to insurance verification and billing, all the way through to payment processing and collections.
RCM is essential for healthcare practices to ensure they are accurately and promptly reimbursed for their services. In this blog post, we will explore the key steps and benefits of RCM for healthcare practices.
An improvement in revenue cycle management services will improve a practice's financial health and the overall patient experience, which is pivotal to boosting online reviews and testimonials, which is vital for future survival.
Why Should Practices Extend Their Focus from Billing to RCM as a Whole?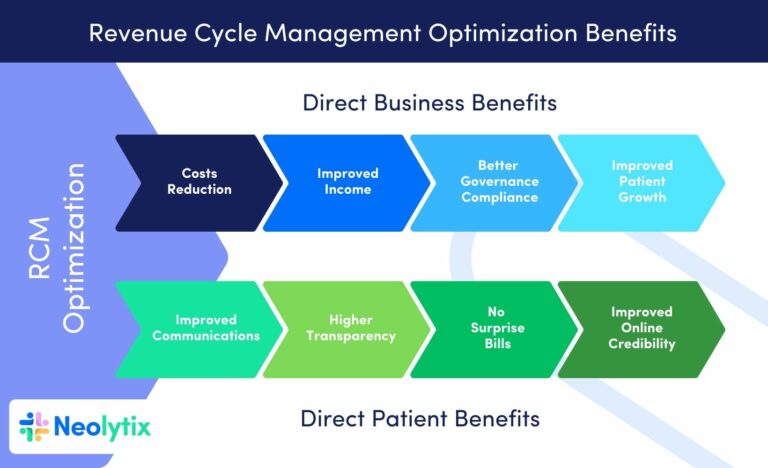 After watching the video above, you realized that a comprehensive RCM strategy involves managing the entire financial cycle of a healthcare practice.
While billing and coding are essential aspects of the revenue cycle management process, they are just one piece of the puzzle. By focusing on the entire revenue cycle, healthcare practices can realize the following benefits:
Effective RCM can help a practice to improve its cash flow by reducing the time it takes to receive payment for services rendered. By streamlining the billing and collections process, practices can ensure they are paid promptly and avoid cash flow issues.
Reducing Denials and Rejections
By managing the entire revenue cycle, practices can reduce the number of denied or rejected claims. This can be achieved by ensuring that claims are submitted accurately and on time and that errors or issues are addressed promptly.
By optimizing the revenue cycle, practices can increase their revenue and profitability. This can be achieved by identifying areas where revenue is lost or not captured and implementing strategies to address these issues.
Enhancing Patient Satisfaction
A well-managed revenue cycle can also lead to higher patient satisfaction. By streamlining the billing and collections process and providing clear and accurate information about insurance coverage and costs, practices can improve the patient experience.
Meeting Regulatory Requirements
Healthcare practices must comply with various regulatory requirements, including HIPAA and billing regulations. By prioritizing RCM, procedures can ensure they meet these requirements and avoid costly penalties and fines.
A comprehensive RCM strategy can help practices achieve these goals and long-term financial stability.
Recent studies projected that the global healthcare RCM outsourcing market would grow at a compound annual growth rate (CAGR) of 9% between 2020 and 2024. The report cited the cost savings and operational efficiency benefits of outsourcing RCM as critical factors driving this growth.
With How Much Can My Practice's Revenue Increase With Improved Revenue Cycle Management Services?
The percentage of revenue increase with proper Revenue Cycle Management service improvements can vary depending on the following:
Practice's current state of RCM
Practice size
Specialty of practice
Level of RCM optimization
Expertise in outsourced RCM third party
However, on average, healthcare organizations implementing effective RCM practices and technologies can achieve a 5% to 10% revenue increase.
Healthcare organizations can reduce claim denials, improve collections, and accelerate the revenue cycle by improving key RCM processes such as patient registration, eligibility verification, charge capture, coding, and billing.
It's worth noting that the exact percentage of revenue increase may vary based on various factors and individual situations and that revenue growth is not guaranteed by implementing RCM solutions. However, proper RCM can help healthcare organizations improve their financial performance and achieve sustainable development over time.
How Much Can Practices Expect to Save On Operational Costs Following RCM Optimization?
The percentage of operational cost reduction when outsourcing Revenue Cycle Management (RCM) can vary depending on several factors (similar to what we mentioned in the previous section. In case you skipped the previous section, here they are again:
Practice's current state of RCM
Practice size
Specialty of practice
level of RCM optimization
Expertise and costs of outsourced RCM third party
That being said, outsourcing RCM can lead to significant cost savings. According to a survey conducted by Black Book Market Research, outsourcing RCM services can reduce operational costs by an average of 15%.
Similarly, a report by Grand View Research estimated that outsourcing RCM could result in cost savings of up to 30% for healthcare organizations. The report also noted that outsourcing RCM could help healthcare providers improve their revenue collection rates, reduce denials and rejections, and improve the overall efficiency of their revenue cycle processes.
How Much Does it Cost to Outsource Revenue Management Cycle Services?
The costs associated with selecting a third-party vendor to optimize your practices are one of critical factors providers take into consideration. The cost of outsourcing revenue cycle management services for practices can vary widely depending on the specific needs and services required by the course and the RCM vendor chosen.
RCM vendors can charge a percentage of the amount collected or a flat fee per claim or service. The exact percentage or fee structure can depend on the following:
the specific vendor,
the size of the practice
the types of services required
Specific agreement between vendor and provider
If you are looking for a partner to reduce insurance claims denials and underpayments, engage in proper billing practices, improve your practice's patient experience, and more, Neolytix, with over 11 years of experience in the field, has the expertise to enhance your future financial prosperity.
If you wish to learn more about the costs and benefits associated with outsourcing revenue cycle management, schedule a FREE, no-obligation consultation today.
Schedule a Free Consultation to learn more about optimizing your revenue cycle
Complete the form and someone from our team will be in touch with you!