Potential ROI on Hiring A Virtual Assistant
Most practices are befuddled by the low collection rates of their medical billing team. As your practice expands, you will want to reconsider the effectiveness of your in-house medical billing process and whether you should partner with a medical billing management services organization. Medical billing has a big impact on your business's cash flow and if it is not performing at the desired levels, you should seriously consider the ROI of outsourcing to a medical billing management services organization.
If you are confused about making this move, Neolytix would like to provide you with some detailed insights into the ROI you can expect from this move
Why Outsource to a Medical Billing Management Services Organization?
Investing in a medical billing management services organization (MSO) can be one of the best decisions you could be making for your practice. But how can you be sure that you are making the right choice? It is important that you understand the return on investment to simplify this decision.
When it comes to outsourcing your medical billing services to an MSO agency, there is no one size fits all approach to calculating the ROI. Still, on average, you should expect to see an increase of up to 10% in your net collections.
It has been found that a positive ROI is achievable more reliably with outsourcing. Costs become more predictable and the processes more efficient. Outsourcing administrative tasks goes a long way in improving patient care. All data becomes centralized and readily accessible. Physicians and healthcare providers will get a clear picture of the patient's medical history.
Imagine your billing department succeeding in achieving 90% to 95% of what is owed to your practice. A good medical billing MSO follows the 80/20 rule, commonly referred to as the Pareto Principle. According to this rule, 80% of consequences are driven through 20% of the causes. These services focus on deploying resources to make problem payers pay up using high-return and high-value services.
ROI from Outsourcing Medical Billing
An important aspect of improving medical billing management is to ensure your medical claims are error-free before submission. First Pass Acceptance (FPA) is the percentage of claims getting accepted by insurance payers on their first submission. The national FPA rate average is 70%. This is an area that you can expect your MSO to excel in as compared to your in-house team and processes.
Many practices continue to lose revenues because they have a poor first-pass ratio and claim re-work. You will lose a significant percentage of your profit margins when your in-house team has to rework a higher percentage of claims or write off outstanding account receivables (AR) as denials. When outsourcing, you will not have to worry about cutting down on your profit margins.
Consider that you are a $4 million healthcare practice that collects around 85% of the bill owed.
The amount of revenue that goes uncollected is $600,000 every year
An MSO with a 90% to 95% revenue collecting power can help bring down the uncollected figure to $400,000 to $200,000
Your net collections will increase by an amount ranging from $200,000 to $400,000
If the agency charges 4% for their services, you would still be collecting an additional $56,000 to $248,000
As already mentioned, the best medical billing outsourcing agencies follow the 80/20 Pareto Principle and focus their resources on the problem payers. When you outsource your billing services to an MSO, you will be increasing both your revenues and gross profit margins. You will certainly be looking at a better ROI.
Here is a cost comparison of in-house billing and outsourced medical billing management and how they stack up against each other. This will provide you with more valuable insights to help make a decision.
Thus, outsourcing your medical billing services will not only increase your collection but will also reduce overhead. You can literally add this $60,000 in savings to the additional collection of $56,000 to $248,000 made by your outsourced agency.
Besides the financial benefits, outsourcing medical billing will also allow your clinical and administrative staff to focus more of their time and energy on patient experience and patient care. The staff managing your medical billing process can return to handling more critical activities. Your team can focus more of their time on building your patient base. Some of the steps they can take can include:
Educating patients
Developing more effective marketing strategies
Learning new technology solutions
They can also act as the connection with your outsourcing partner to learn better about collecting deductibles, non-covered benefits, and more.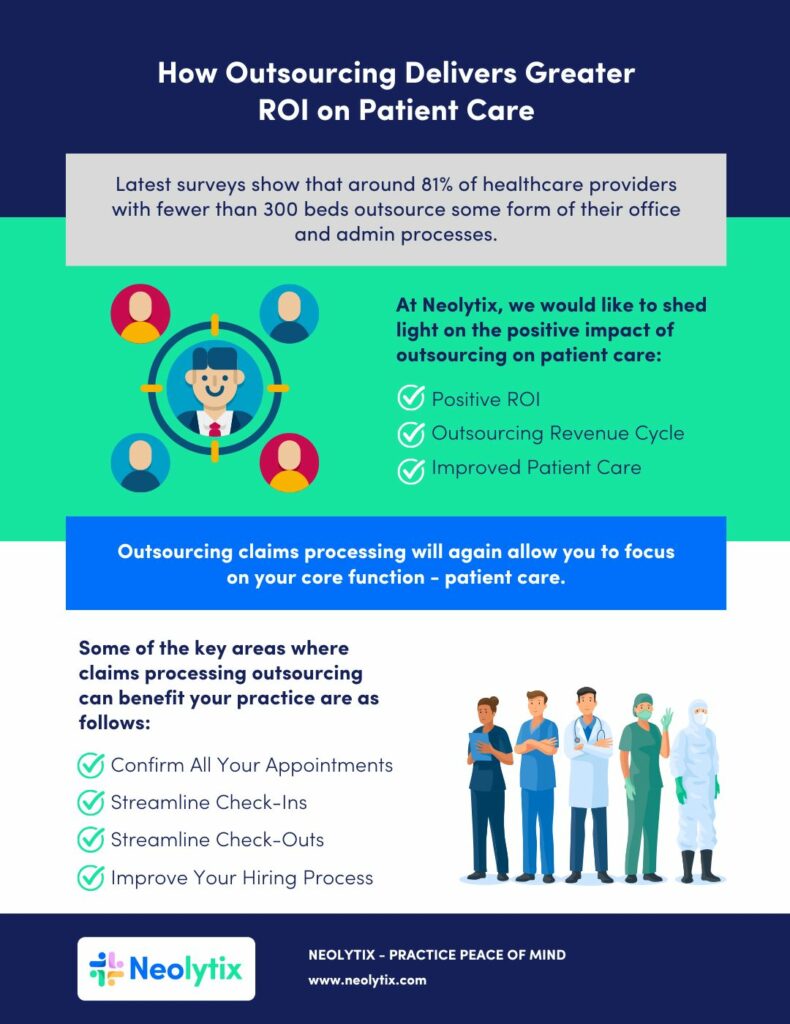 At
Neolytix
, we help you and your team to focus on more critical priorities for your practice. We help medical practices grow their client list. We accomplish growth thanks to our partnership with analytics platforms such as
SuperbCompanies
, Google Analytics and SEMRush among a litany of many other tools. By tracking growth metrics, we've been able to help medical practices get consistent ROI. For more information about our services, feel free to get in touch with us at
1-888-828-2585
or send us your queries using this online form
Get Help with Billing, Credentialing, & Virtual Assistants - Work With A Team of Experts