Potential ROI on Hiring A Virtual Assistant
How to Grow Your Practice: Top Strategies
As a medical provider, you know that growth is the key to success in today's healthcare market but with so many challenges and obstacles to overcome, it can be difficult to know where to begin. Rising healthcare costs, evolving regulatory environment, consolidation, and changing market powers are only some of the external pressures keeping growth opportunities at bay.
In this article, we will explore the growth challenges healthcare providers face today, 8 strategies medical providers can use to grow their healthcare businesses, and how external partners can contribute to practice growth.
The Growth Challenges Healthcare Providers Face Today
Growing a healthcare organization can be a challenging task in today's ever-changing healthcare market. Apart from the macro-economic pressures, internal business challenges also provide additional challenges. Healthcare providers are faced with numerous challenges such as managing administrative tasks, staying up-to-date with new technologies, and attracting new patients while also retaining existing ones.
1. Attracting New Patients
Providers must invest in effective marketing strategies, online visibility, and patient engagement initiatives in a competitive healthcare landscape to stand out and attract new patients. Building strong referral networks and offering convenient access to care is also essential in capturing the attention of potential patients.
2. Online Reputation Management
Maintaining a positive online reputation is crucial, as 71% of patients rely on online reviews and ratings to decide about their healthcare providers. Healthcare practices should actively monitor and respond to reviews, address patient concerns, and consistently provide high-quality care to build a positive reputation in the digital sphere.
3. Front Desk Inefficiencies
An efficient and well-organized front desk is vital for patient satisfaction and practice growth. Minimizing wait times, streamlining scheduling and appointment processes, and ensuring clear communication with patients can help improve the overall patient experience and increase the likelihood of patients returning to your practice.
4. Limited Services
Offering a comprehensive range of services that meet the diverse healthcare needs of patients is crucial for practice growth. Specializing in specific areas can be beneficial, but having a broad range of services allows providers to capture a more extensive patient base and better compete with other providers.
Telemedicine, for instance, is an example of expanding current services without deviating from specialization.
5. Technology Adoption and Innovation
Embracing technology, such as electronic telemedicine, remote patient monitoring, and patient portals, is becoming increasingly important for healthcare providers. Implementing technological solutions can improve efficiency, patient engagement, and access to care, enabling providers to deliver more convenient and patient-centric services.
How Medical Providers can Detect and Fix Inefficiencies in their Operations
Detecting and fixing efficiencies will help optimize operations, reducing costs and improving profitability. The downside is that employees are usually somewhat reluctant to implement efficiency-improving strategies, as humans tend to resist change. It helps to keep employees in the loop from the start to help get their buy-in.
1. Auditing operations
Conduct a thorough audit of your non-clinical operations to identify areas where processes can be streamlined or eliminated. For example, you might be duplicating efforts in your billing and collections process or using outdated software, slowing down your workflows.
2. Review entire RCM processes.
Review your revenue cycle management process to identify areas where billing and collections can be improved. For example, you might find that your collections rates are lower than they should be due to issues with coding or documentation or that you are not submitting claims promptly.
3. Technology Assessment
Assess your technology and systems to ensure they are up-to-date and used effectively. For example, you might find that you are not utilizing your electronic health record system to its full potential or could benefit from implementing new technology like telemedicine.
4. Personnel Role Evaluations and Process Optimizations
Evaluate your staffing levels and work processes to ensure employees are used efficiently. For example, you might find that you are over-staffed in certain areas or that some employees are not utilized to their full potential.
5. Investigate Patient Satisfaction/Patient Experience
Monitor patient satisfaction and feedback to identify areas where patient experience can be improved, such as wait times or front desk interactions. For example, you might find that patients are consistently unhappy with how much time they spend in the waiting room, or they are frustrated with the level of customer service provided by your front desk staff.
Elevate Patient Care and Boost Revenue
with Neolytix Rev+ Program
Empower your practice to elevate patient care while optimizing revenue
8 Strategies Medical Providers Can Use to Grow Their Healthcare Businesses
1. Expand Your Services
By offering a wider range of services, such as adding specialized clinics or incorporating ancillary services, you can attract new patients who may have diverse healthcare needs and create opportunities for cross-referrals within your practice.
2. Improve Patient Satisfaction
Enhancing patient satisfaction involves implementing measures like reducing wait times, providing clear communication, and offering personalized care. Happy patients are more likely to become loyal advocates for your practice and refer others to your services.
3. Develop a Strong Online Presence
Having a professional website with clear information about your services, maintaining positive online reviews, and engaging with patients on social media platforms can help establish trust, reach a wider audience, and enhance your practice's visibility in the digital realm.
4. Implement New Marketing Strategies
Effective marketing strategies, such as search engine optimization (SEO), targeted advertising campaigns, and community outreach, can help raise awareness about your practice, attract new patients, and build a reputation as a trusted healthcare provider.
5. Improve Communication and Patient Education:
Enhancing communication with patients and providing comprehensive education about their health conditions, treatment options, and preventive care can empower patients to actively participate in their own healthcare.
Utilize tools such as blogs, e-brochures, and educational videos, and offer these on various channels such as the website, through social media, or email.
6. Streamline Front Desk Operations
Implementing efficient systems for patient check-ins, appointment scheduling, and insurance verification can reduce waiting times, minimize administrative errors, and enhance the overall patient experience.
7. Use Patient Feedback to Improve
Actively soliciting and utilizing patient feedback through surveys, suggestion boxes, or online platforms allows you to identify areas for improvement, address concerns promptly, and demonstrate your commitment to delivering patient-centered care.
8. Partner with a Business Support Partner
An external business support partner, like Neoltyix, can provide support services, such as billing, coding, marketing, and administrative assistance. Partnering with such a specialized company allows you to focus on patient care while leveraging their expertise and resources to enhance operational efficiency and drive practice growth.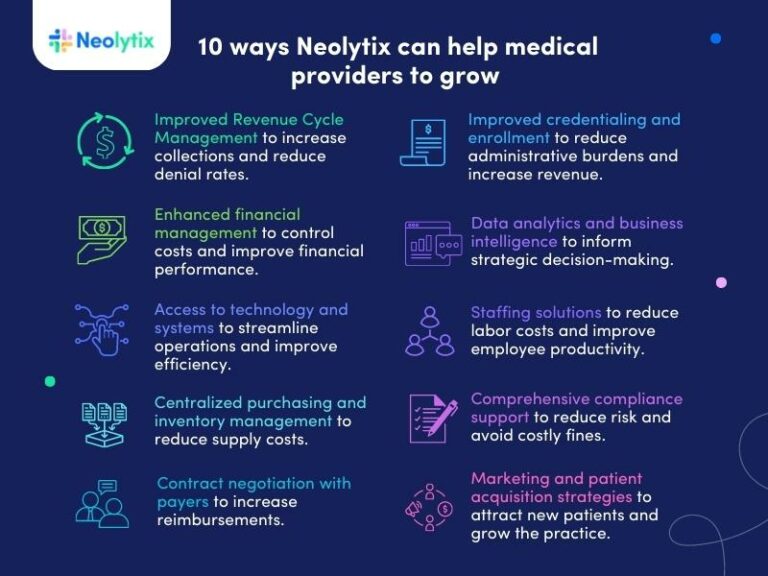 Neolytix has been partnering with healthcare providers nationwide for over 11 years. If you are serious about growth, contact us for a no-obligation consultation.
Get Help with Billing, Credentialing, & Virtual Assistants - Work With A Team of Experts
Complete the form and someone from our team will be in touch with you!