Medical billing plays a crucial role in the financial success of any medical practice. Efficient and accurate billing practices ensure timely reimbursements, reduce denied claims, and improve overall revenue cycle management.
In this article, we will explore medical billing best practices that can help healthcare practices optimize their billing processes and maximize revenue. We will also discuss the benefits of outsourcing medical billing and coding to a reputable company like Neolytix.
Medical billing is the process of submitting and following up on claims with insurance companies to receive reimbursement for services rendered by healthcare providers. It involves collecting patient information, coding procedures, creating claims, submitting them to insurance companies, and managing the payment process.
Effective medical billing ensures proper documentation and coding, accurate claim submission, and prompt reimbursement.
Where Does Medical Billing Fit into the Revenue Cycle?
Medical billing is a crucial component of the revenue cycle for healthcare organizations. It occurs after patient encounters and encompasses activities such as verifying patient eligibility, capturing and coding services provided, submitting claims to insurance companies, and managing accounts receivable.
By efficiently managing the medical billing process, healthcare practices can streamline their revenue cycle, improve cash flow, and optimize financial performance.
Key Metrics to Measure Medical Billing Success: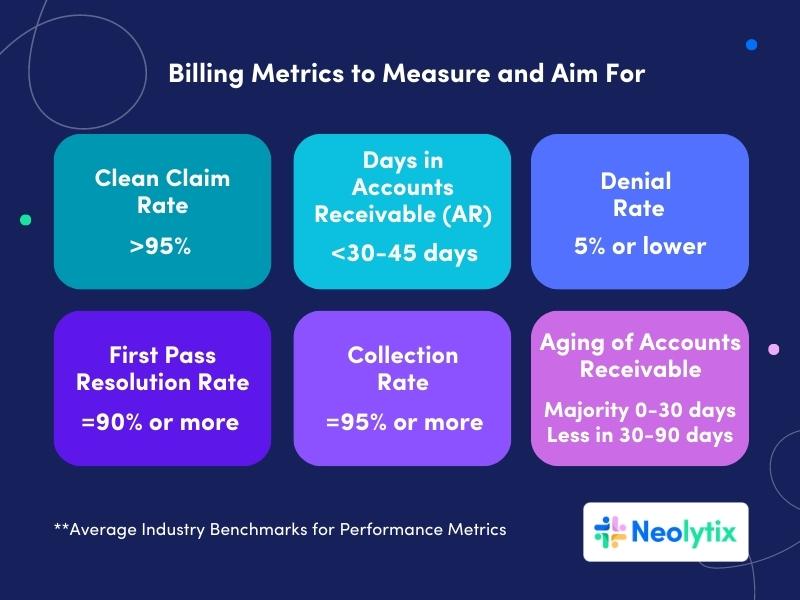 It is important to track and measure key metrics to gauge the effectiveness of your medical billing processes and maximize collections. These metrics provide valuable insights into the performance of your billing operations and help you benchmark your goals for optimal revenue cycle management.
Let's explore some key metrics along with target numbers or percentages to give you an idea of what to aim for:
The clean claim rate refers to the percentage of claims submitted and accepted by insurance companies without errors or rejections. A high clean claim rate indicates accurate coding, thorough documentation, and proper claim submission.
Aim for a clean claim rate of at least 95% or higher. This means 95 of 100 claims are successfully processed and reimbursed without additional follow-up or corrections.
Days in Accounts Receivable (AR)
The days in accounts receivable metric measures the average number of days it takes for your practice to receive payment for services rendered. A lower AR days value indicates efficient billing and collections processes, leading to faster revenue generation.
Depending on your specialty and payer mix, 30 to 45 days or less target is generally considered good. However, the lower you can keep this number, the better.
The denial rate represents the percentage of claims that insurance companies deny. Tracking and reducing the denial rate is crucial, as denials can result in delayed reimbursements and increased administrative workload.
A target denial rate of 5% or lower is considered favorable. This means that only 5 out of every 100 claims submitted are denied.
First Pass Resolution Rate
The first pass resolution rate measures the percentage of resolved and reimbursed claims on the first submission. A higher first-pass resolution rate signifies effective claim submission processes and reduces the need for rework or appeals.
Aim for a first-pass resolution rate of 90% or higher. This means that 90% of claims are accepted and paid on the initial submission without requiring additional follow-up or resubmission.
The collection rate measures the percentage of billed charges collected by your practice. It reflects your ability to collect payments from patients and insurance companies.
Ideally, it would be best if you aimed for a 95% or higher collection rate, indicating that you are successfully collecting the majority of the revenue you are entitled to.
Aging of Accounts Receivable
The aging of accounts receivable provides a breakdown of outstanding balances by the number of days they have been unpaid. It helps identify potential bottlenecks in the collections process.
Aim to keep the majority of your accounts receivable within the 0-30-day bucket. A lower percentage of balances in the 60-90-day and 90+ day buckets indicate better cash flow management and collections efficiency.
Remember that these target numbers or percentages can vary based on factors such as specialty, payer mix, and geographic location. Setting goals that align with your specific practice circumstances and continually monitoring and adjusting your strategies to achieve optimal billing performance is essential.
By regularly tracking these key metrics, you can gain valuable insights into the efficiency of your medical billing processes and identify areas for improvement. Implementing best practices, streamlining workflows, and leveraging technology solutions can help you meet and exceed these benchmarks, ultimately leading to improved financial health and operational success for your medical practice.
8 Medical Billing Best Practices
Efficient and effective medical billing practices are crucial for healthcare practices to optimize revenue cycle management and ensure timely reimbursement for services rendered. By implementing best practices, healthcare providers can streamline their billing processes, minimize errors, and maximize revenue. Let's explore some essential medical billing best practices:
1. Accurate and Thorough Documentation
Comprehensive and accurate documentation is the foundation of successful medical billing. Healthcare providers should thoroughly document all patient encounters and services, including diagnoses, procedures, and treatment plans. Clear and detailed documentation supports accurate coding, reduces the risk of denied claims, and justifies medical necessity.
2. Compliance with Coding and Billing Regulations
Staying current with coding and billing regulations is essential to ensure accurate claim submission and compliance with industry standards. Healthcare providers should follow current coding guidelines to accurately code procedures and diagnoses, such as the Current Procedural Terminology (CPT) and the International Classification of Diseases (ICD). Regular training and education for coding staff help them stay informed about the latest changes and updates.
3. Verification of Patient Eligibility and Insurance Coverage
Before providing any services, healthcare providers should verify patient eligibility and insurance coverage. This helps prevent claim denials due to coverage issues or changes in insurance status. Providers can minimize billing errors and improve claim submission accuracy by confirming the patient's insurance information, including policy number, effective dates, and coverage limits.
Click here to read more about Medical Credentialing Process
4. Timely Claim Submission
Prompt claim submission is crucial for timely reimbursement. Healthcare practices should establish efficient processes to submit claims to insurance companies as soon as possible after patient encounters. Utilizing electronic claim submission methods, such as electronic data interchange (EDI) or practice management systems, can expedite the process and reduce the chances of errors or delays associated with manual submission.
5. Comprehensive Claims Scrubbing
Implementing a robust claims scrubbing process helps identify and rectify errors before claim submission. Utilize billing software or dedicated claims scrubbing tools to review claims for missing or incomplete information, coding errors, and other discrepancies. By proactively addressing potential issues, healthcare providers can improve clean claim rates and minimize claim rejections or denials.
6. Efficient Denial Management
Denial management is a critical aspect of medical billing. Healthcare providers should have a structured process to promptly identify and address denied claims. This includes investigating the reasons for denial, correcting any coding or documentation errors, and resubmitting the claim with additional supporting information. Timely and effective denial management helps optimize revenue flow and minimize revenue loss.
7. Regular Performance Monitoring
Regularly monitoring key performance indicators (KPIs) related to medical billing is vital for identifying areas of improvement and tracking progress. Metrics such as clean claim rate, days in accounts receivable (AR), denial rate, and collection rate provide valuable insights into the efficiency and effectiveness of the billing process. By analyzing these KPIs, healthcare providers can identify trends, implement targeted improvements, and measure the impact of their billing efforts.
8. Ongoing Staff Training and Education
Investing in training and education for billing and coding staff is essential to ensure their knowledge and skills align with industry best practices. Continuous education helps staff stay updated with changing regulations, coding guidelines, and payer requirements. This knowledge empowers the team to code procedures accurately, handle claim submissions efficiently, and navigate complex billing scenarios.
By implementing these medical billing best practices, healthcare practices can optimize their revenue cycle, reduce billing errors, enhance cash flow, and improve overall financial performance. However, it's important to note that each healthcare organization is unique, and best practices may need to be tailored to specific circumstances and requirements.
Regular evaluation and adjustment of billing processes based on performance data will lead to sustained success in medical billing operations.
Why Outsource Medical Billing and Coding?
Outsourcing medical billing and coding to a reputable medical billing company like Neolytix offers several advantages for healthcare practices.
By partnering with a specialized medical billing company, practices can:
Access Expertise: Benefit from the expertise of trained professionals who stay updated with coding and billing regulations, reducing billing errors and optimizing reimbursement.
Reduce Administrative Burden: Outsourcing medical billing allows your staff to focus on core patient care activities, improving productivity and efficiency within the practice.
Enhance Revenue Cycle Management: Experienced medical billing companies can streamline the entire billing process, from claim creation to collections, leading to improved revenue flow and financial performance.
Mitigate Billing Errors: Outsourcing to experts reduces the likelihood of billing errors, claim rejections, and denials, ultimately improving revenue generation.
Implementing medical billing best practices is crucial for healthcare practices to optimize revenue cycle management and financial performance. By ensuring accurate documentation, efficient claim submission, and proactive denial management, practices can reduce billing errors, improve cash flow, and enhance overall profitability.
Outsourcing medical billing and coding to reputable companies like Neolytix offers additional benefits, allowing practices to focus on delivering quality patient care and reducing operational costs while maximizing revenue.
Stay committed to implementing and refining best practices to achieve sustained success in medical billing and revenue cycle management, and schedule a free, no-obligation consultation with us to learn how.