Revenue cycle management is getting mentioned more often than ever before. Revenue Cycle Management best practices are becoming the focus of healthcare providers looking to scale, optimize revenue streams, or switch from a fee-for-service to a value-based-service model.
But approaching RCM with half-measures will not render the desired results. That's why practices need to implement revenue cycle management best practices to ensure that the patients and the bottom line of the course receive the maximum benefit.
This article will discuss some of the best practices for effective revenue cycle management.
What is healthcare revenue cycle management?
Revenue cycle management (RCM) is a financial process used by healthcare facilities. It monitors patient care episodes from the beginning to the end. This includes registration, appointment scheduling, and settling outstanding balances.
These days, there is an argument in support of extending revenue cycle management to include reputation management. This refers to encouraging patients to post reviews, reviewing, and also replying to these online testimonials and reviews.
The information obtained from focused online reputation management could be fed back into the cycle to cause continuous improvements along the way. Others will counter-argue and state that this falls within the healthcare marketing realm.
That's why in this article, we'll focus on the eight core revenue cycle management best practices and exclude reputation management.
The 8 Best Practices of Healthcare Revenue Cycle Management
Healthcare practices and hospitals are facing several challenges, such as:
These factors have prompted healthcare organizations to search for ways to maximize revenue. However, many healthcare leaders may need to realize how much revenue they lose due to inefficient revenue cycle management. Adopting a new approach to explore and implement revenue cycle management best practices can significantly improve cash flow and revenue.
The shortcut is, of course, to outsource RCM to an industry expert, but we'll get to that a little later in this article.
1. Verify Patient Insurance Information
One of the most critical steps in revenue cycle management is verifying patient insurance information. It is essential to confirm the insurance details of each patient before providing any services. This helps to guarantee that their claims will be settled promptly.
Insurance information is a multi-step process, including verifying the patient's insurance eligibility, benefits, and coverage. The best practice for verifying insurance information is before the patient's appointment. This helps reduce the likelihood of denied claims and the need for costly rework.
It could also reduce the risk of surprise bills which could lead to hefty penalties.
2. Optimize the Patient Registration Process
The patient registration process is the first point of contact between the patient and the healthcare organization. It is important to improve the patient registration process. This will help us gather precise patient information, such as insurance details, demographic information, and medical background.
One of the best practices for optimizing the patient registration process is to implement an electronic health record (EHR) system. An EHR system helps reduce manual data entry errors and increases the accuracy of patient information.
3. Ensure Accurate and Timely Coding
Accurate and timely coding is essential for successful revenue cycle management. Healthcare organizations should use the most up-to-date coding systems to ensure the accuracy and completeness of claims. The International Classification of Diseases (ICD) and Current Procedural Terminology (CPT) are the most widely used coding systems in the healthcare industry.
Healthcare organizations should have a coding team. This team should be knowledgeable about the latest coding regulations and guidelines. This will help them ensure coding is done in a timely manner. Proper coding is one of the key pillars in maximizing revenue in any practice.
(Check out our latest article, Pain Management CPT Codes, to stay updated on the latest changes.)
4. Monitor and Manage Claims Submission
Claims submission is a critical step in the revenue cycle management process. Healthcare organizations should have a system to monitor and manage claims submission. This system should include tracking claims that have been submitted and those that have been denied. Healthcare organizations should have a process in place to resubmit denied claims in a timely manner.
One of the best practices for managing claims submission is to automate the process. Automated claims management systems can help reduce errors and increase efficiency.
5. Implement a Denial Management Process
Denied claims can have a significant impact on revenue cycle management. Healthcare organizations should implement a denial management process to reduce the number of denied claims and ensure timely resubmission.
The denial management process should include:
Identifying the root cause of the denial.
Correcting any errors.
Resubmitting the claim in a timely manner.
A denial management process can reduce the number of denied claims and improve revenue cycle management.
6. Monitor Key Performance Indicators (KPIs)
Key performance indicators (KPIs) are metrics used to measure the success of revenue cycle management. Healthcare organizations should monitor KPIs to identify improvement areas and track progress. KPIs commonly used in revenue cycle management include accounts receivable days, first-pass claim resolution rate, and denial rate.
By monitoring these KPIs, healthcare organizations can identify areas for improvement and take corrective action. Here are some of the most vital KPIs to consider:
Days in Accounts Receivable (AR)
Clean Claims Rate
First Pass Payment Rate
Denial Rate
Collection Rate
Cost to Collect
Patient Satisfaction
7. Provide Staff Training and Education
Effective revenue cycle management requires well-trained and educated staff. Healthcare organizations should provide ongoing training and education to staff members involved in revenue cycle management. This training should include updates on coding regulations and guidelines, changes in insurance policies, and best practices for claims submission and denial management.
Healthcare organizations can improve the accuracy and efficiency of revenue cycle management by providing staff with the necessary training and education. In practice, it is difficult for practices to allot time to research and training as the day-to-day workload seldom allows it.
8. Use Technology to Improve Efficiency
Technology can play a significant role in improving the efficiency of healthcare RCM. For instance, investing in specialized RCM software can help automate many revenue cycle processes, including billing, claims management, and denial management. Such software can also provide real-time data analytics, which can help identify and resolve issues quickly.
Providing staff with mobile technology such as tablets or smartphones can improve efficiency by enabling them to capture patient data and billing information at the point of care. Mobile technology can also streamline communication between staff and provide real-time access to data.
Thanks to technological improvements, the healthcare industry can now offer telehealth services. These services can increase efficiency by providing remote consultations and reducing the need for in-person visits. Telehealth services can also reduce the time and cost associated with manual data entry and paperwork.
The Benefits of Partnering with an Expert to Implement RCM Best Practices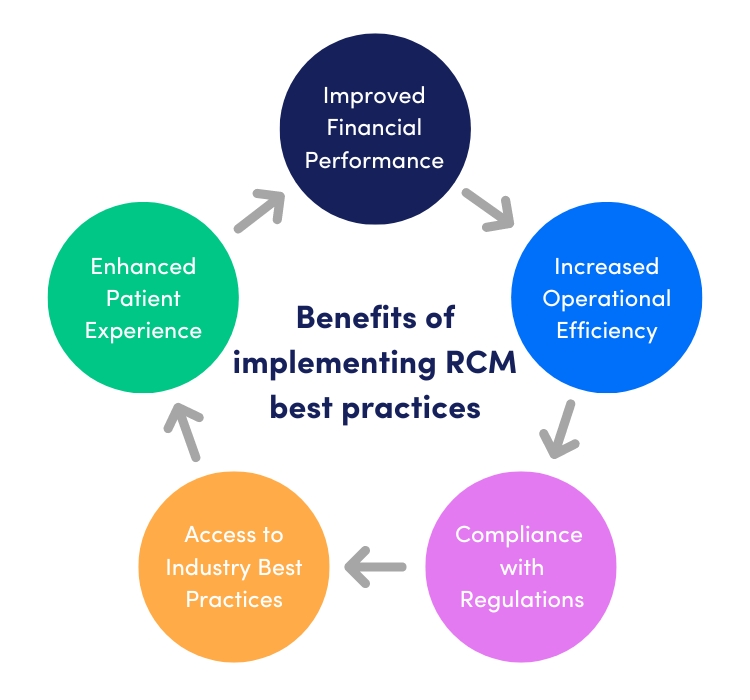 Neolytix has been the preferred non-clinical outsourcing partner of choice of practices nationwide for over 11 years. Partnering with an expert like Neolytix to implement revenue cycle management best practices can provide numerous benefits, including:
1. Improved Financial Performance:
Working with Neolytix can help optimize your revenue cycle management processes, resulting in more accurate and timely billing, reduced claims denials, and faster reimbursement. This will lead to improved financial performance for your healthcare organization.
2. Increased Efficiency:
Neolytix can help you identify inefficiency in your revenue cycle, such as bottlenecks in your billing or claims processing workflows. By implementing best practices and Neolytix proven tactics, you can streamline these processes and reduce the time and effort required to manage your revenue cycle.
3. Compliance with Regulations:
Adhering to healthcare regulations can be difficult due to their ever-changing nature. An RCM expert like Neolytix can help ensure your organization follows all relevant rules and requirements, such as HIPAA and CMS.
We have dedicated experts constantly scanning the environment for changes and then transferring the knowledge to the rest of the Neolytix team.
4. Access to Industry Best Practices:
An RCM expert has extensive knowledge and experience in the healthcare industry and can guide the latest best practices and trends. This can help your organization stay up-to-date and competitive in the ever-evolving healthcare landscape.
The Neolytix teams function in an environment with a free flow of information. Whatever is detected in the industry is immediately reported to the supervisors, who will ensure the relevant actions are taken.
5. Enhanced Patient Experience:
By improving your revenue cycle management processes, you can also improve the patient experience. Patients appreciate accurate and transparent billing, and faster reimbursement can reduce financial stress and anxiety.
Neolytix teams use best-in-industry communication platforms for patient communication. Everything is recorded and analyzed by AI to determine the overall patient sentiment. Scheduled or on-demand in-depth reporting reveals opportunity areas that can be used to improve the patient experience continuously.
Take the first step toward a healthier financial future and an elevated patient experience. Schedule your consultation now to explore the possibilities of a well-crafted RCM framework and the benefits of professional RCM services for your practice. Your success begins with informed decisions—let us guide you through the process.
Schedule a Free Consultation to learn more about optimizing your revenue cycle
Complete the form and someone from our team will be in touch with you!