As a medical provider, accounts receivable is a critical part of your business. However, outstanding receivable can lead to cash flow problems and create financial strain. Therefore, it's important to understand how to reduce accounts receivable and take steps to reduce outstanding invoices.
In this article, we will explore some tips on how to reduce your accounts receivable and maintain a healthy cash flow while still sustaining a good patient experience.
What is Meant by Accounts Receivable?
Accounts receivable is the term used to describe the outstanding payments owed by customers to a business. These unpaid bills represent credit lines for prior purchases and are recorded as assets on the company's balance sheet. Since accounts receivable are a legal obligation and current support, customers must settle their balance within a year or less.
Accounts receivable (A/R) in medical billing is the amount of money still outstanding from clients for the services that have been provided or billed and is an important KPI to consider when optimizing the revenue cycle management process. The list of individuals who owe you money can include both patients and insurance providers.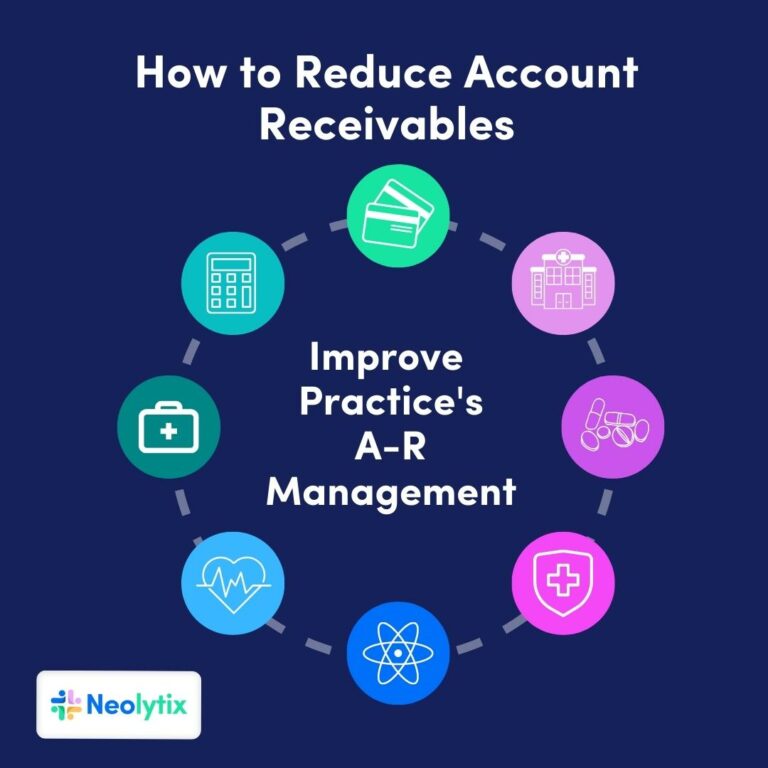 What Is Accounts Receivable Management?
Accounts receivable management for healthcare organizations involves tracking and collecting payments owed by patients and insurance providers for medical services rendered. The management of AR in healthcare, a step in the revenue cycle management process, is vital to ensure that the organization maintains its financial stability and operates profitably.
It involves various activities, such as verifying patient insurance eligibility, submitting accurate and timely claims, and following up on unpaid or denied claims. Effective AR management also requires establishing clear payment terms, communicating with patients about their outstanding balances, and providing multiple payment options to make it easier for them to pay their bills.
Tips on How to Reduce Accounts Receivable
Healthcare organizations must implement a comprehensive AR management process to maintain a positive cash flow and maximize revenue. Below, we explore seven points to illustrate how to reduce accounts receivable in your healthcare organization.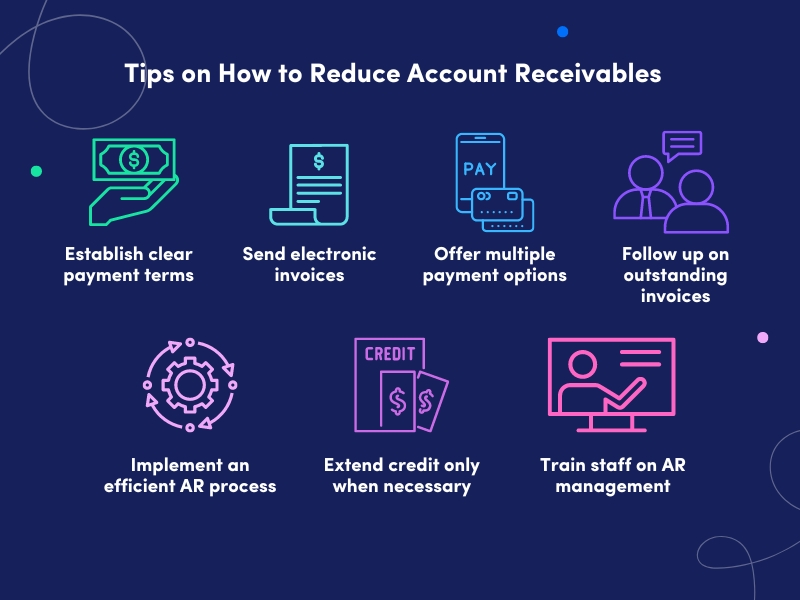 1. Establish clear payment terms. 
The first step to reducing accounts receivable is to establish clear payment terms. Medical providers should communicate their payment expectations to patients upfront, including the due date. It is essential to have payment policies that patients can understand and follow.  
Consider offering payment plans or accepting time payments if necessary. Additionally, ensure that patients understand that payment for services rendered is expected, even if they have insurance coverage. 
2. Send Electronic Invoices 
In today's digital age, sending electronic invoices to patients is easier. This approach can save medical providers time and reduce the likelihood of errors associated with manual billing processes. Electronic invoices also enable providers to track outstanding invoices and send automated reminders to patients who have not paid. The use of electronic invoicing can significantly improve the efficiency of the accounts receivable process. 
3. Offer Multiple Payment Options  
Medical providers should offer patients various payment options to make it easier for them to pay their bills. Options like credit card payments, online payment portals, EFTs, or automatic deductions from bank accounts can make it more convenient for patients to pay their bills. Offering payment options can also help to reduce the time-consuming process of tracking down patients who have not paid. 
4. Follow Up on Outstanding Invoices  
Following up on outstanding invoices is essential to ensure patients pay their bills promptly. Consider sending out reminders before the due date and following up with phone calls or emails after the due date has passed. Medical providers can also use collections processes to recover outstanding balances from patients who have not paid. The key is to be persistent in collecting payments and follow up regularly. 
5. Implement an Efficient AR Process  
An efficient AR process is crucial to managing outstanding accounts receivable. Medical providers should have a well-defined AR process that includes the timely submission of claims, follow-up on unpaid claims, and consistent communication with patients regarding their balances.  
Additionally, consider automating the AR process to reduce time spent on manual tasks. Medical billing companies such as Neolytix knows how to automate processes and reduce AR through years of working with patients and healthcare providers.  
6. Extend Credit Only When Necessary  
Medical providers should only extend credit to patients when necessary. Consider requiring upfront payments for new patients or those with a history of late payments. Medical providers can also consider offering financing options to patients who cannot pay their bills upfront. 
7. Train Staff on AR Management  
The staff responsible for managing accounts receivable should receive adequate training. They should understand how to communicate payment policies to patients, track outstanding invoices, and follow up with patients who have not paid. Additionally, they should be proficient in using electronic invoicing or billing software to ensure the process runs smoothly. 
Elevate Patient Care and Boost Revenue
with Neolytix Rev+ Program
Empower your practice to elevate patient care while optimizing revenue
Improving Accounts Receivable Management Without Straining In-Practice Resources
It is essential to know how to reduce accounts receivable to ensure that medical providers maintain a positive cash flow and profitability, although it can be time-consuming. By investigating the tips mentioned above and comparing this with how your medical organization performs, medical providers can improve their accounts receivable management process and maximize their future revenue.
Accounts receivable management is part of a healthcare organization's revenue cycle management process— a business aspect that is one of Neolytix's specialties. By improving your revenue cycle management processes (like AR), you can also improve the patient experience. Patients appreciate accurate and transparent billing processes and clear communication.
Neolytix teams use best-in-industry communication platforms for patient communication. Everything is recorded and analyzed by AI to determine the overall patient sentiment. Scheduled or on-demand in-depth reporting reveals opportunity areas that can be used to improve the patient's experience continuously.
Schedule a Free, No-Obligation consultation and learn more about reducing accounts receivable to improve your cash flow and the patient experience.
Get Help with Billing, Credentialing, & Virtual Assistants - Work With A Team of Experts