Credentialing with Insurance Companies- How Tricky Is It?
Credentialing with insurance companies is a frustrating experience for just about all practitioners. Even if you have past experience with it, it doesn't get better the more you do it (sorry to tell you). It's an exhausting, mind-numbing gauntlet that takes pleasure dragging you through it for months. So, what's tricky about it, you ask? What are the most important orange cones you want to avoid and how can you overcome them? At Neolytix, we peel back the rotted wood and show you the dark and dirty parts about the credentialing process and how we can help (they don't call us the credentialing exterminators for nothing).
Challenges in the Credentialing Process
You're up to bat. Across the field you see the pitcher standing on the mound, his wind-up is smooth; his aim– accurate. Then the pitch– brutally fast as it lays its cylindrical mass into your gut. That's about how it feels when you begin the insurance credentialing process. Except that you can't have that credentialing baseball removed from your belly button for about four to five months.
You'll notice that the companies have their preferred provider networks or insurance panels mostly full. This makes it harder to become an in network provider. The barriers to entry can be like scaling a security wall covered in coconut oil. In short, it's difficult.
An insurance network can become highly selecting on the providers they allow to be on their list. This can increase the amount of work you need to do on your end. However, this is only one challenge you will come across when credentialing with insurance companies.
Insurance Credentialing & the Duration
The turnaround times of different carriers can vary. Still, there's some data to help you get an estimate of the duration.
Medicare enrollment takes a lesser amount of time than that for enrolling in commercial insurance panels. Studies show that it takes an average time of 41 days to complete the process of credentialing. This covers everything from the time required for submitting the application until the carrier informs you of the completion. Some practices have had this process completed in as short as a two-week period. The longest it has taken has been around 86 days.
When it comes to the medical credentialing process for commercial insurance companies, it can take 60 to 90 days for the verification process to complete. The contracting phase can take another 30 days for completion. Thus, you can expect 90 to 120 days for the entire process – from the moment the application is submitted to notification of completion. That's pretty tricky when you're trying to get the whole process to move along so your patients can use their insurance providers with your practice.
When you start the process, it's recommended to take this timeline as the general guideline. There can be variations based on factors such as the provider type, background, training, education, and the average temperature in Saskatchewan (not really, but it's going to feel like it).
The main steps involved in a typical application process include:
Submitting the credentialing application (or as some of our clients like to call it, non-discriminatory torture).
The insurance company will verify all of your credentials (on their own sweet time at the expense of yours).
Getting approval from the insurance panels committee (Snooze fest).
Executing a participating provider contract (Now we're getting somewhere!)
Studies show that it takes an average of 64 days for the completion of the medical credentialing process with commercial insurance companies. The shortest time has been noticed to be around 21 days. Please understand- that's unicorn status. You rarely, if ever, see that.
The longest delays have been found to be around 201 days and more realistic to the timeframe you can expect. This means the variation in time taken by commercial insurance companies for the credentialing process is about as wide as the Grand Canyon on a good day. So when you plan your process, it is best to keep a time period of 90 to 120 days in mind.
If you seek in-network reimbursement, you will be required to complete your credentialing and contracting process. The payments will be received only for claims with dates of service starting with the effective date of contract. In other words, commercial insurance plans do not usually back date the dates of contracts.
How Can A Professional Service Help?
At Neolytix, our medical credentialing service can help you overcome these challenges. We have a team of dragon slayers battle tested and fireproof who can devote the time you do not have to the credentialing process.
When you choose us, we take control of the process to deliver quick and fast results. We will take care of all the steps required for credentialing with insurance companies, including:
Verifying state medical license with the proper licensing agency.
Verifying board certification status.
Verifying the validity of DEA Certificate/CDS Certificate, wherever required.
Verifying Education & Training.
Verifying prior sanctioning activities by CMS & regulatory bodies.
Reviewing work history.
Reviewing malpractice claims history.
Verifying proof of proper professional licensing.
Verifying proper malpractice insurance.
You may be a practitioner or a facility hiring a new provider. It's important to plan and allow proper time for the completion of the medical credentialing process. It is best to give up to 120 days for your process to complete. Take these steps as part of planning and preparation for smoother commercial insurance or CAQH application process:
Prepare early.
Update your CV.
Select reliable peer references.
Get the NPI
Apply for a DEA number, if you don't already have one.
Get your clinical history & procedure logs.
Create digital copies of all the key information.
Complete the onboarding documentation.
Keep all the deadlines in mind.
The gathering of information to do credentialing is the piece that can be difficult. So placing it into forms for credentialing/re-credentialing is the easiest piece — Neolytix does the completion of forms and does the submissions. In fact completing the application correctly, submitting the forms in a timely manner, and following up with payers to ensure that the information has been received and is being processed in a timely manner are all included. There is a tremendous amount of communication and follow-up that needs to happen between the credentialing team and the payer.
At Neolytix, we can take care of the entire process of credentialing with insurance companies for you, streamlining the process and saving valuable time. You can focus on your practice while we take care of the meticulous process. If you need more information about our services, call us today at 1-888-828-2585 or write to us at sales@neolytix.com. You may also visit our website to learn more about our services.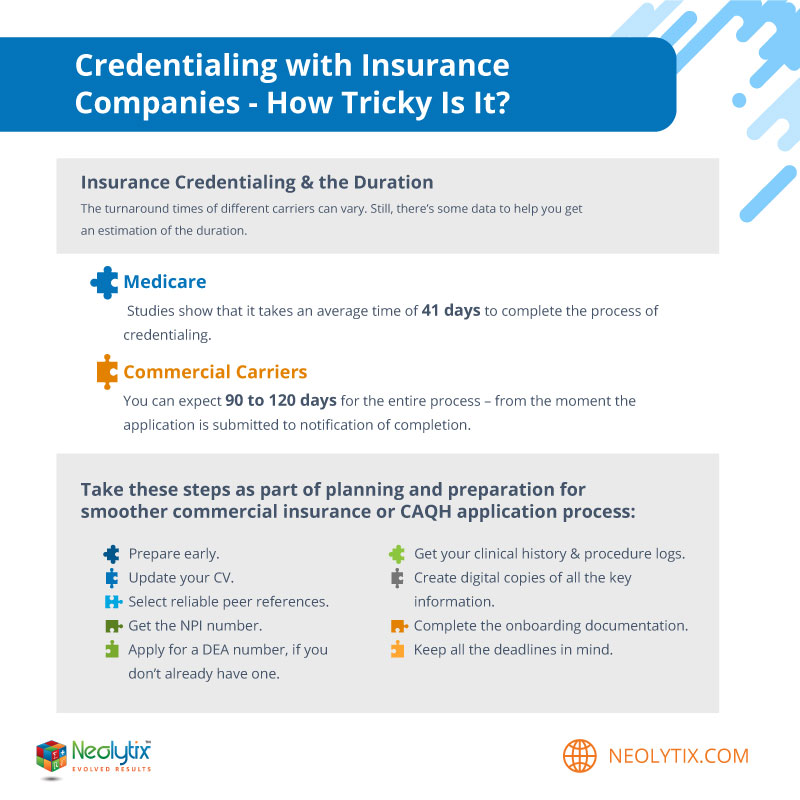 Get Help with Billing, Credentialing, & Virtual Assistants - Work With A Team of Experts