Potential ROI on Hiring A Virtual Assistant
Ever step on a Lego? Those tiny, camouflage cubes of torture (that appear at three in the morning to prevent you from making that pilgrimage to the fridge) lie there waiting for your tootsies to feel their wrath.
It's painful (hello understatement!) Not just when you step on them, but the pain they inflict lingers long after you've screamed in horror while hopping and holding your poor foot.
Rising costs, inefficient administrative tasks, medical billing, and a low percentage of payment collections are just a few of the Legos that medical practices face regularly. And we can either react with shock or we can strategize a way around it.
Quality administrative teams– that's where it's at.
They are the difference between sitting in a bathtub full of Legos or chucking those bad boys straight in the trash. In today's private practices if you don't have a quality administrative team that takes care of all the tasks while you and your clinical team focus on what you do best – caring for your patients and growing your practice– then you are unnecessarily struggling.
Experienced, specialized, and well-resourced administrative teams can have a transformative impact on a medical practice and can not only keep you running smoothly but strategically build a system you can rely on long into the future.
What Does A Quality Administrative Team Look Like?
There are very clear points of excellence that you can instantly see when you notice a quality administrative team. Here are a few:
Anticipating every need like an ER nurse standing by with the next surgical instrument.

The initiative to handle the hard stuff like The Incredible Hulk against an entire army of concrete.

The knowledge to know what to look for much like Superman with X-ray vision.

The skills to know how to handle the job because it's not their first rodeo.

A massive pool of subject-matter experts at your disposal slicing through the air with a Bat signal anytime the situation gets too serious (are we noticing a theme here?)

Existing steel infrastructure set in place to help them grow their business faster and smarter.
What Does Your Practice Look Like Now?
Compare and contrast that with where your practice is right now. Do you feel like you have a team that looks like that one? Do they have super powers? And to be clear, you can be a great medical practitioner who excels in taking care of patients while simultaneously struggling to have the administrative side of your business functioning at optimal levels. You may be short-staffed, or have staff that doesn't have specialist qualifications in handling all the different types of administrative tasks essential to your office.
Filing multiple claims, especially if you are a specialty provider, can be a daunting task. For example, nephrologists will have to file hundreds of claims against dialysis at a time. Small practices usually have a very small team and handling so many claims at a time can be frustrating and can create a disorganized practice when other functions are considered. This can affect your practice's clinical workflow and efficiency.
You will also have to report on information and data to the Centers for Medicare and Medicaid Services (CMS) to get reimbursed. Thus, there is always a mountain of administrative tasks and paperwork for your practice to deal with.
Why It's Not Running Smoothly
If you are feeling that your practice is overwhelmed due to all the administrative burdens, there are specific reasons why things are not running smoothly. It would be helpful if the most common and most obvious reasons are pinpointed for you to address.
Do you feel you are constantly in crisis management mode? Stuff is always breaking, issues are always cropping up. The lack of the right systems (or processes) is a common reason why practices are often disorganized. 
Small practices tend to have a lot of processes which are manual – bigger companies invest millions of dollars in software integration and automation – they have the scale to justify the return on that investment. However manual processes mean that all the checks and balances need to be put in manually. And you know what checking and reconciliation is? It is mind numbing, boring and repetitive. It is also the reason why a lot of practices struggle with staying organized.
And then there is the Domino effect…one breaks somewhere and the dominoes start falling until it becomes a situation where money is not coming in, the front desk staff are not asking patients for payment balance because they don't know how much to charge and everything is a big hot mess.
Lack of specialized expertise is another common reason medical practices are unable to run smoothly. It is important to make sound hiring decisions. If you notice the following issues affecting your office or facility, this is one of the contributing reasons:
Drop in patient satisfaction

Patient Balances not being collected timely

Administrative tasks getting neglected

Increase in employee turnover

Too much time spent on researching answers to questions on Internet 
Effective hiring can fulfill both short-term and long-term needs. Physicians nowadays are expected to do more than provide exceptional clinical services to save lives. Patients and their families also expect you to help them with relevant paperwork and save money. Both your clinical services and your office's administrative services have become important to developing long-lasting relationships with your patients.
You Don't Have Enough of This Either
Lack of proper manpower, expertise, and technology are contributing factors leading to lack of payment follow through. Whether it be from insurance companies or directly from patients, it takes lots of time, planning, and effort to ensure timely reimbursements or payments.
A common contributing issue is the failure to capture patient information. This is a big reason for delays in claims reimbursement. The process of medical billing typically starts at the time when a patient comes in contact with your practice. It is during this time that your front-desk staff should collect all the patient information to facilitate billing and collection. Concerning revenue cycle, patient scheduling and registration are the initial steps where you get accurate information. This is where the foundation is laid for efficient and effective billing and collection. Hiring the right experts in the right numbers and using customized systems are still important factors in this entire process.
Some of the most important ways to bringing order to your office or facility and running your practice smoothly are as follows:
Implement Robust Processes
Administrative requirements are always evolving and growing. It isn't just enough for a practice to hire a great medical team to grow and succeed. It will also be about hiring knowledgeable, skilled, and specialized administrative staff. When you have qualified administrators dedicated to running your practice smoothly, your doctors, nurses, and other clinical staff will be free to focus on their core functions. Implementing such a system where the specialists focus on their core duties can allow you to focus on your practice without the need for eagle eyeing every detail. 
Insert Experts In Each Field
The key to running your practice smoothly is to insert experts in each field in the right spot in your office or facility. However, this is hard! Finding the right talent is one of the biggest challenges. Cost can be another crucial limiting factor. This is where outsourcing can help. 
Outsourcing administrative functions can help free up your resources to provide more focused and better patient care. Your vendor, with their specialized team and systems, can focus on ensuring the non-care tasks are taken care of. The experts on their team can catch errors and anticipate processes and steps that would otherwise be overlooked. Besides, they keep up-to-date with the latest regulations, processes, and technologies, helping your practice stay with the times.
Determine Where The Leaks Are Coming From And Fix Them
Profit margins in the private sector are always under threat from more regulation and reduction in carrier allowances. A more efficient billing process is important for your practice to maintain your profit margins and to determine where the leaks are. 
When you outsource the process, well-trained specialists will take care of the task. Revenue loss can result from many factors. Losses caused by minor mistakes and errors can be quite frustrating. Specialized experts have the knowledge, skills, and tools required to locate the leaks and fix them.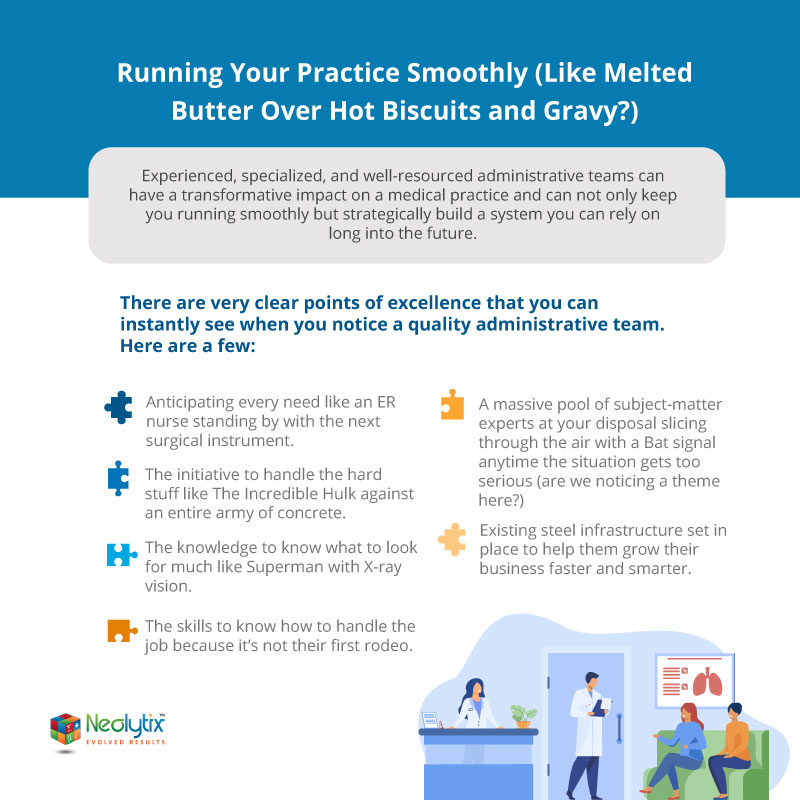 There are many medical practices out there that find themselves in disarray and are struggling to pull things together. You cannot afford to have your clinical team juggling between their core functions and administrative tasks. The right way is to let the administrative experts take care of medical billing and other tasks that support your practice. Bottom line– do you want a superhero team working behind the scenes for you?
At Neolytix, we are a management service organization specializing in all areas of administrative functions required in a medical practice. This includes medical billing, credentialing, enrollment, and other functions. If you want to know more about our service and how we can help you in running your practice smoothly, call us today at 1-888-828-2585 or send us a message using this Online Form.
Get Help with Billing, Credentialing, & Virtual Assistants - Work With A Team of Experts