Potential ROI on Hiring A Virtual Assistant
According to some experts, physicians spend an average of 51.4 hours per week working. Almost a quarter spend 61 hours to 80 hours per week attending to their patients. If you are a healthcare professional, this clearly means that you are spending more than 8 hours a day taking care of your patients. Once your sleep hours are factored in, it is important for you to consider how easy it is to fit this "time outside of medicine?"
A 2019 Medscape National Physician Burnout, Depression & Suicide Report suggests that 36% of professionals that work 31 hours to 40 hours per week showed symptoms of burnout. Almost 50% of those working 61 to 70 hours showed the symptoms.
Your Daily Practice Routine
Maintaining a healthy work-life balance is a big concern in the minds of many practitioners. However, there are many pain points in a physician or healthcare professional's daily routine that need to be addressed.
Morning Routine

: Waking up and preparing before heading out to your office.

Office: Once you are in your office, you find the waiting room full of patients.

Appointments

: Each appointment is scheduled for a 15-minute period. You have unplanned and unavoidable surprises that keep pushing you back behind schedule. 

Lunch

: Many practitioners call a protein bar their lunch. And even when they snack on it, they are trying to catch up on notes.

Afternoon Urgent Appointments

: You have to attend same-day appointments that are categorized as urgent cases.

Follow-Ups

: Once the appointments have been done, there are lab results, messages, prescription refill requests, and X-rays that pile up and need to be completed.
Even when you are at home, you don't know when an emergency call may arrive. And at home, you spend more time searching for articles related to the patients you saw today than having any form of entertainment. 
Besides this routine, you have to overlook the following processes in coordination with your in-house staff:
Records Management

: Ensure proper and accurate patient medical records management as per HIPAA compliance requirements.

Customer Service

: Outbound/inbound customer communication is among the most time-consuming processes for care facilities. It is commonly marred by inconsistent, fragmented, and unaligned practices with the preferred communication techniques for patients.

Revenue Cycle Management

: Billing, collections, and claim management are the key to revenue generation. 

Vendor/Provider Management

: It is important to select and maintain the most cost-effective and highest-quality vendors/providers to provide quality care and maintain profits.
Lack of time, burnout, and lack of specialized skills among staff can create challenges that cause delays and affect the revenues and growth of your practice.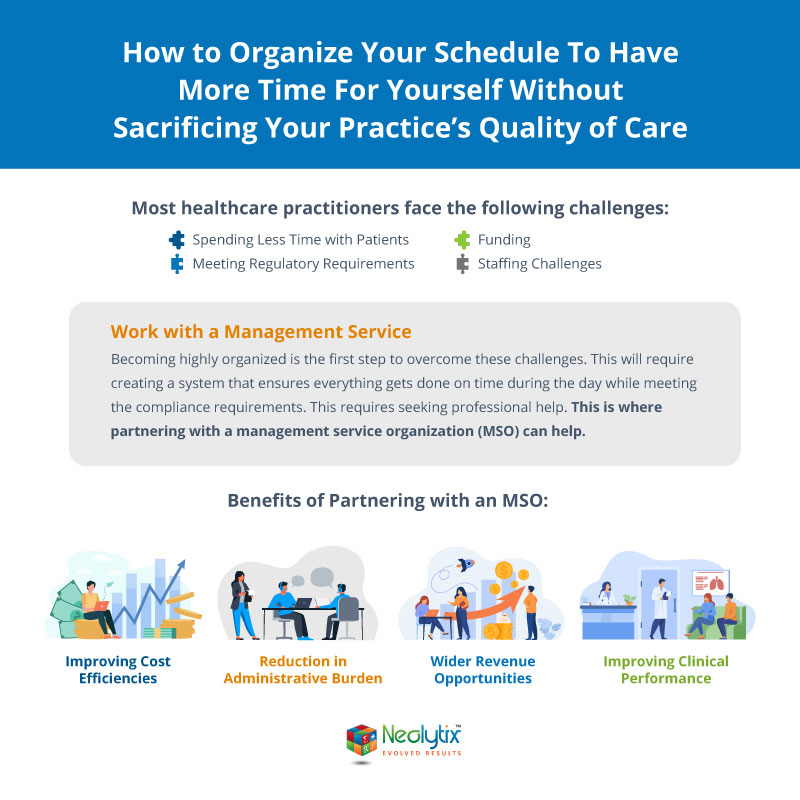 Overcoming the Challenges
Most healthcare practitioners face the following challenges:
Spending Less Time with Patients

: Various forms of administrative burdens reduce the amount of time you spend with patients. According to a 2016 Annals of Internal Medicine report, physicians spend only around 27% of their average daily work hours with patients. Almost 50% of that time is spent dealing with administrative tasks and electronic health records.

Meeting Regulatory Requirements

: You have to report a stream of information to the CMS while seeking reimbursement. 

Funding

: You will be relying on electronic health record technologies, which are third-party based, for your reimbursements.

Staffing Challenges

: As more and more independent practices are being taken over by healthcare systems and hospitals, finding specialized staff is a growing challenge.
And maintaining a work-life balance and finding time for yourself amid all these challenges can seem like an insurmountable task. There is a better way to organize your time.
Working with a Management Service Organization
Becoming highly organized is the first step to overcome these challenges. This will require creating a system that ensures everything gets done on time during the day while meeting the compliance requirements. This requires seeking professional help. This is where partnering with a management service organization (MSO) can help.
A survey shows that 42% of physicians claim that they feel burnt out. 55% of these practitioners say that the cause is the amount of time they spend on paperwork. When you outsource all that task, there is no need to focus your time and energy on paperwork. This will translate into greater freedom, better work-life balance, and greater job satisfaction.
Benefits of Partnering with an MSO
Management services bring organization, order, and profitability to your practice and routine. It benefits you in a number of ways:
Improving Cost Efficiencies
Cost efficiency is one of the biggest benefits of hiring the services of an MSO. Such organizations provide a customized list of services such as billing, coding, and other administrative tasks to improve productivity.
Wider Revenue Opportunities
An MSO can expand your revenue growth opportunities through:
Effective reimbursement processes

Better documentation & billing

Accurate coding/collection practices

Optimized operational throughput
Many practices may not have the knowledge base required for full and compliant billing for services.
Improving Clinical Performance
It is common for practices to not have an initial point for clinical performance. A management service organization can help improve clinical performance by creating clinical productivity and quality performance dashboard. This involves measuring performance in key metrics leading to:
Improved outcomes

Improved patient satisfaction

Reduction in variations of care

Improved coordination of care
Reduction in Administrative Burden
The growth in the number of administrative tasks will divert your focus, time, and energy away from your core clinical functions. Management services provide you with the functions required to reduce the administrative burden on you and your existing in-house team.
Ignoring the Importance of MSO
Not taking action is one of the most common causes of productivity decline, increase in liability risks, and costs for practices. You will have your in-house team juggling between different roles. The associated issues that can develop include the following:
i. Support Issues
You may hire several billers to your team. This will increase your investment in payroll. However, having a small team can mean that your cash flow and operations get affected when one of them takes leave, gets sick, or quits.
ii. Increased Liability
You and your team will regularly find yourself overburdened with handling tons of insurance and other protocols. If your staff doesn't understand or realize the risks of HIPAA and PHI violations, it will increase the amount of stress in your life. If your medical billing staff are not experts, you will be risking low claim success rates, thus affecting your revenue.
The cost incurred on the salary, benefits, resources, and training of in-house staff often exceeds the cost to outsource. Besides, the amount of time you have to take away from your clinical activities and personal life can have short-term and long-term implications on different aspects of your life. Besides, you could be spending more than 50% of your time handling administrative tasks instead of caring for your patients.
A significant percentage of healthcare practitioners are overwhelmed by their clinical and non-clinical duties. Outsourcing the right tasks to an MSO can make a big difference in your quality of life and the growth and success of your practice itself. At Neolytix, we provide customized management solutions for different types of practitioners, offices, and organizations. If you want to learn more about how we can help take off your administrative burden, call us at 1-888-828-2585. You may also send us a message via this Online Form.
Get Help with Billing, Credentialing, & Virtual Assistants - Work With A Team of Experts