Although medical credentialing for your healthcare organization with Insurance Companies is an essential part in growing your business, it is a tedious, time-consuming, and mind-numbing exercise. It isn't a once-off punishment either; it needs continuous attention.
Researching what to do and how to do it before you start the insurance credentialing process is also very time-consuming and frustrating. That is why we decided to do the legwork for you and create this essential guide to medical credentialing with insurance companies so that you can find everything you need in one spot, which will save you time and ease the learning curve somewhat.
Let's start with some of the speedbumps that you might encounter on your journey of credentialing with insurance companies.
Planning for challenges in the medical credentialing process
Selection Process
Credentialing is essential for the growth of a healthcare organization, no matter what the size. For this reason, there could be a long line of organizations waiting to get credentialed and join the network of preferred providers. For that reason, insurance companies become very selective, and this might require you to jump through additional hoops to cross this entry barrier.
Duration
The duration of credentialing application process might be another stumbling block as it takes much longer than most people would expect. Here is a quick summary of what to expect.
Commercial Carriers Credentialing

60 to 90 days

Medicare

Average 40-60 days

State credentialing (Medicaid/ MCO's)

90-150 days

CAQH Profile

3 hours (Online application)

NPI Number
(NPI for individuals, NPII for organizations)

30 minutes
Reimbursement procedure
In-network reimbursement is only applicable for claims made after the effective date. The effective date differs, depending on the company, and may either be from the start of the application process or once credentialing is finalized.
Sometimes the process might be faster than mentioned above, but it is not wise to bank on the outliers in these statistics. If you wish to know more about the expected times and potential pitfalls of the process, we advise that you read one of your previous articles where we discussed turn-around times in detail.
'Must have' physicians checklist
Apart from the additional income stream from insurance claims and exposure to appearing on a preferred provider list, being a credentialed physician improves trust in the practice.
If you are still not convinced, there are numerous other reasons that we listed in a previous article that are sure to get you starting the process as soon as possible. If you are already on your way, here are a few boxes you need to tick while going through the process.
Pre-Application
Your first point of departure would be to submit the pre-application. This is a stage-gate that is supposed to streamline the process beyond. It is essentially a background check to filter out those with shoddy records or without board certifications to continue through the mainstream process. Once you have ticked this off the list, you are ready to proceed to the main process.
Main Application
It is important that you have anything ready before you start. As we mentioned in the previous section, it is a slow process, and you wouldn't want to delay it even further if you could avoid it. Here is a tick list of information and documents you need to supply in a timely manner for your application.
Educational history and transcripts.
Current medical license, DEA registration, and board certification.
Work history.
Evidence of continual malpractice coverage.
Personal immunization records.
Personal health history.
Professional and personal references.
Explanation of any gaps in work history.
Hospital privilege or hospital affiliations
CAQH enrollment
Letters of recommendation
Copy of resume
Remember to keep a set of copies and a checklist so that in the event something goes wrong, you are ready to reply, fix what has to be fixed, and allow the process to continue to at its snail's pace.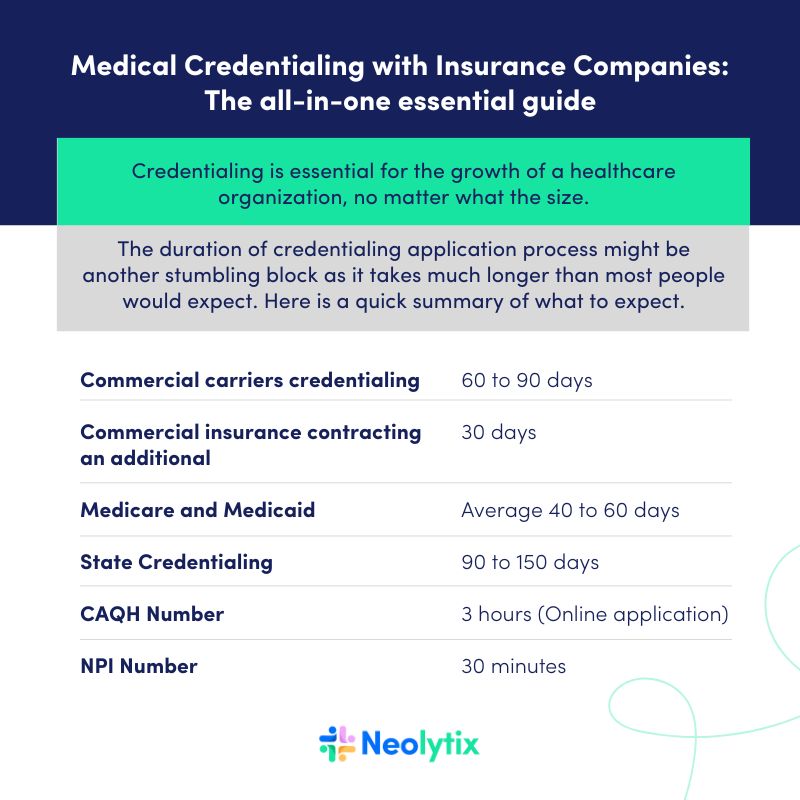 Dentists - Avoid Delays in the Credentialing Process
Risk of restarting
In one of our previous articles, we mentioned focusing on medical credentialing for the dental industry. One thing that stood out was to make sure that the people you entrust with the process are capable, competent, and available to see the process through to the end. If for some reason, something goes wrong, it could mean that the process has to be restarted. Needless to say, this would add additional months to the already lengthy process.
Mitigation of risk
The primary objective is to free dentists from non-income generating, time-consuming activities without compromising future income streams. Relying on administrative staff could remove these activities, but the risk of delaying the process due to uncertainty or incompetence in the process is a possibility.
Outsourcing the process to professional service providers will not only save you time and money, but it will reduce stress, knowing that the process is in the competent hands of professionals with years of experience in doing this on a daily basis.
This brings us to our next point…
When you should outsource provider credentialing
Continuous attention
Sadly, credentialing isn't a once-off process, but it needs to be maintained. For instance, for Medicare, the credentialing process must be done every 5 years or 3 years for DMEPOs. If you fail to do so, it could lead to them holding on to your reimbursement or sometimes even deactivation of billing privileges.
Also, if details change, even simple things like an address, the correct stakeholders should be considered and informed. And then there is the onboarding from staff too. Or transfers from other states without reciprocal agreements.
We published an elaborate article on the magnitude and frequency of addressing credentialing, but for your convenience, we included a list of the credentialing files that need continuous attention:
Ongoing CME record
CAQH maintenance
Expired documents maintenance
Medicare revalidation of enrollment records
Commercial insurance
Enrolment record updates when making location/business changes
Support to the billing office
Limited resources
Relying on your current administrative task may overload their responsibilities, and as we all know, stressed-out or burned-out staff members make mistakes. Apart from the errors that could slip in and lead to delays, as mentioned before, there is also overtime pay that would increase operational costs.
The costs of getting credentialing professionals will get the job done faster, error-free, and at a fraction of the cost.
Increased efficiency
Depending on the size of your institution, you might not have people that are experts in the field of credentialing. They might not be up to date with the latest regulation changes or even the continuous updating as mentioned in the previous sections.
Staff turnover also plays a role in the efficient continuous processing of credentialing. If there is a turnover of staff, the new member might be inexperienced or could be unfamiliar with processes currently in place. Learning curves are riddled with mistakes. Mistakes that could be avoided when getting dedicated outsourced credentialing help.
Your personnel might also not have the right relationship with the insurance companies like the professionals might have, which leads to a faster, more efficient credential process.
Your in-house personnel could be swamped with daily tasks and therefore prioritize additional activities such as credentialing as second-tier activities and would not get the desired attention it deserves. For outsourced professionals, these are their primary activities; it is what they do.
The outsourcing of the credentialing process is a cost-effective way to streamline the process, get results faster and free more time to focus on the core activities of the practice.
Neolytix provides full-stack, affordable credentialing solutions that would take the ongoing pain and additional expenses out of the medical credentialing process.
For additional free, no-obligation information, please complete the form below and discover how we can alleviate your credentialing pains.
At Neolytix, our full-service credentialing solutions can take on the strenuous workload on your behalf, making the process streamlined, efficient, and rewarding for your organization.